The Reader's Almanac with Walter James Miller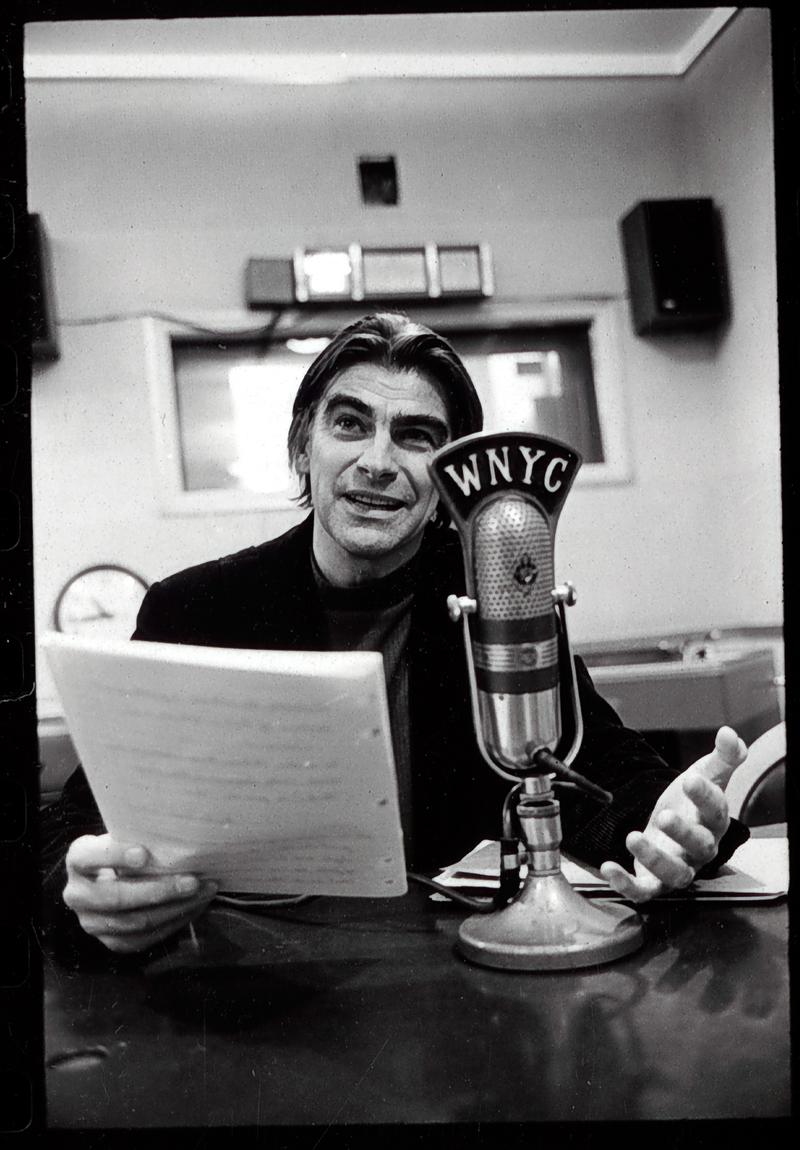 Walter James Miller (1918-2010) was Professor Emeritus at New York University and host of WNYC's Reader's Almanac (1970-1985) and WNYC-TV's Book World (1968-1970). He conducted early interviews with writers such as Nadine Gordimer, Erica Jong, Kurt Vonnegut, Dorothy Gallagher and Jerzy Kosinski.
The Kosinski interview above is from September 29, 1975, where Kosinski discusses his novel Cockpit. This exchange and the others that follow are typical of Miller's approach to interviewing. Drawing out his subjects by thoroughly knowing their work, underscoring universal themes, and always being curious about each author's distinct approach to character and narrative was signature Miller.
A poet, playwright, critic and translator, he created and taught the Great Books course at New York University where he held forth for more than 40 years with very popular classes. As a young man during World War II, he was a public affairs officer for General George Patton honing his skills as a writer of both prose and verse. Miller wrote hundreds of stories about men in combat and life in the infantry. He was the recipient of a writing prize for his short story, Two Soldiers Stopped for Water, published in the anthology, Fighting Words.
After the war he taught at engineering schools in Brooklyn and Colorado and was appointed a full professor at New York University largely because of his pioneering research on the work of Jules Verne. Professor Miller authored, co-authored or contributed to some 67 volumes including book-length studies of Vonnegut, Heller, Sinclair, Beckett, Doctorow and Bradbury. Long considered the dean of American Jules Verne scholars, his annotated translations of four of Jules Verne's novels are noted landmark works.
Erica Jong talks about her third book and first novel, Fear of Flying on December 23, 1973.
Piri Thomas is the author of Seven Long Tunes. He spoke with Walter James Miller on August 24, 1975.
Dorothy Gallagher is the author of Hannah's Daughter. She spoke with Walter James Miller on October 18, 1976.
Some of Professor Miller's favorite links:
Walter Talks Books  North American Jules Verne Society  Poets and Writers  Pen American Center  Home Planet News

Authors Guild  New York Quarterly  NYU Liberal Studies
Broadcast on WNYC Today in:
1928: Prince Ludovico Spada Potenziani, the Fascist Governor of Rome is received at City Hall by Mayor Jimmy Walker and official greeter Grover A. Whalen. The Municipal Band performs.
1931: King Prajadhipok and Queen Rambaibarni of Siam are officially received at City Hall. Mayor Walker tells the King and Queen they are the first visiting royalty to New York since King Albert of Belgium. The King of Siam says, "If some visitors from other worlds, such as Mars, were to come and visit our Earth, I think that the human race would be proud to show them New York, and tell them, 'This is what the human race has been able to do.' "
1945: BBC Radio Newsreel reports on the unconditional surrender of the German army in northwest Germany, Holland and Denmark.
1959: WNYC reports on the winners of the 43rd annual Pulitzer Awards. The awards that year included: Archibald MacLeish. Robert Lewis Taylor, Arthur Walworth, Leonard White, Stanley Kunitz, John La Montaine, Joseph Martin, Philip Santora, The Utica Observer-Dispatch, Utica Daily Press, Bill Mauldin, and Jerome Paul Whitkin.
1962: Robert Moses addresses the San Francisco Bay Area Council on city planning.