Staten Island, Long Island Blazes Under Control
Mayor Michael Bloomberg toured the area of the Staten Island fire by helicopter Tuesday afternoon after firefighters worked through the night and into this morning to contain a blaze at the former Fresh Kills landfill, and managed to contain a brush fire on eastern Long Island.
"There is no health issues here," the mayor said on Staten Island. "The fire department was here quickly. They have it under control. They never thought there was any great danger to anybody. The only danger here is to the firefighters."
More than 200 firefighters responded to the five-alarm fire on Staten Island that began Monday and jumped across the West Shore Expressway, forcing its closure for a period.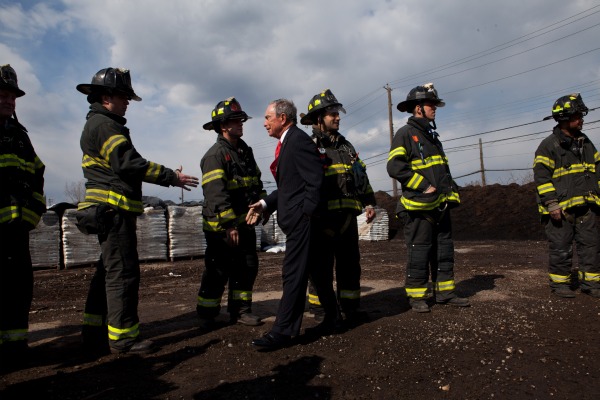 Fire officials say the cause of the Staten Island fire was spontaneous combustion of piles of compost and mulch — all very dry from the lack of snow this winter.
(Photo: Mayor Bloomberg shakes hands with firefighters at the site of the Staten Island blaze./New York Times pool photo)
Beryl Thurman, president of the North Shore Waterfront Conservancy of Staten Island, was on her way to Fresh Kills when traffic on Victory Boulevard slowed to a crawl. She parked her car and she walked up on to an overpass above to Staten Island Expressway to get a better view.

"All you could see was this really kind pinkish brown smoke in the air. It was so think at one point, it blocked the expressway," she said. "There were cars on the expressway that couldn't go through it because they couldn't see."
On Long Island, Governor Andrew Cuomo praised the efforts of local officials and firefighters in fighting a brush fire that burned approximately 1,000 acres. He declared a state of emergency in Suffolk County, making it eligible for financial assistance.
"The situation is contained for the time being," he said. "Of course, you can have a change in the weather pattern and the fire's not totally out so we're cautiously optimistic that at this point the fire has been contained."
Three firefighters were injured, including two who were treated for smoke inhalation and released from Stony Brook University Hospital and a third who remains hospitalized with first and second degree burns to the hands and face.
Suffolk County Executive Steven Bellone said Tuesday the fire burned heavily overnight but did not spread.
Firefighters were coordinating with the state's emergency management team. State police helicopters conducted 20 water drops to help bring the fire under control.
The brush fire erupted Monday and destroyed two homes and a commercial building. Officials say the fire has been completely contained and is nearly under control.
About 32 people were evacuated from their homes, but Bellone said they're now able to return. Residents in parts of Riverhead had been ordered to evacuate as plumes of smoke could be seen for miles.
At an American Red Cross Shelter in Riverhead 20-year-old Stefi Pacson was one of about a dozen families seeking refuge.
"The smoke was really big. It was literally covering the sun and the ground was red because the sun was hitting the smoke and it was reflecting on the ground. I was absolutely terrified because I didn't know - I didn't know what to do, " Pacson said. "All I told my sister was, 'Get your story, get your equipment, get your hard drive, get the dogs out, we have to leave.'"
Officials at Brookhaven National Laboratory in Upton say a fire was reported on the northern portion of the massive complex. Approximately 2,000 acres, including 300 acres on the Brookhaven Lab site, were reported burning.
The National Weather Service had issued a warning because of strong winds and low humidity.
Brigid Bergin, Charles Lane and The Associated Press contributed reporting.