Anxiety Looms in the Livery Industry as Borough Taxi Permit Sale Nears
The livery industry is set to change how it does business when the Taxi and Limousine Commission will vote on rules for its new five borough street hail plan this month.
It's the last major step before the first 6,000 livery permits are sold in June and legal street hail service comes to the outer boroughs and upper Manhattan in a new form -- and it's causing much uncertainty within the industry.
At a TLC sponsored information session near Yankee stadium this week, about 300 livery drivers and base owners crowded into the auditorium at Lincoln Hospital voicing concerns and seeking answers.
Judy Vargas, who owns a livery base in Washington Heights, said she's concerned about a new rule that would punish base owners if their drivers break the rules, such as accepting street hails outside the stipulated boundaries.
"The TLC should not fine base owners when the taxi drivers pick up in the street because if we are going to have a permit that costs $3,000, we shouldn't be fined for that."
Vargas is also worried about some of the other requirements but she believes if she doesn't opt in her drivers will leave. There are 476 livery bases throughout the city.
"If we're not part of it … my drivers will go somewhere else," Vargas said.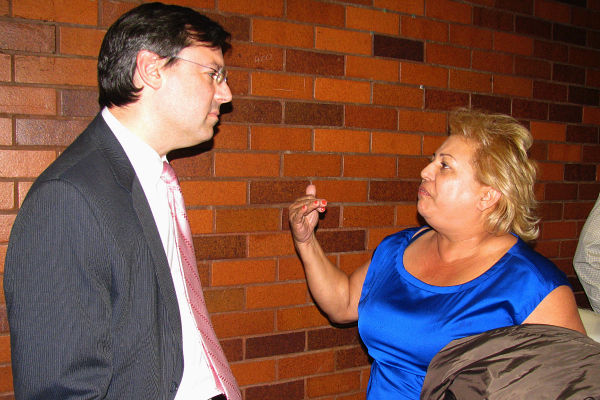 Drivers are also up in arms about some of the changes outlined by the TLC is a 89-page rule book on the proposed street hails.
(Photo: TLC Commissioner David Yassky talks with livery driver Clara Santiago. Kathleen Horan/WNYC)
Veteran Bronx driver Hamilton Delos Santos said he's been picking up street hails for a decade — even though it's not technically legal. He has been ticketed three times in 10 years, but successfully fought the summonses.
He said he's not sure why he would need to invest about $5,000 to upgrade his cab and buy a new livery permit.
"I've been taking street hails since I've been doing it, so now we have to invest all this money. It's something we've already been doing for so long — what's the total investment, the paint the meter, the taxi top — too many questions not being answered in there."
The fine for accepting illegal street hails is $350.00.
During the information session, Clara Santiago, who works for Riverside Car Service, asked TLC Commissioner David Yassky why she'll have to paint her car a different color if she purchases a livery permit.
She has a black Lincoln.
"You want to keep it that way..I understand. But we're trying to make a distinction about the cars that can pick up off the street and the ones that can't," he said.
Yassky said he's not surprised there is still some confusion. He expects much of that to melt away after the plan is enacted and passengers do what they do best — put up their arms and hail a cab.
"Once we get the licenses issued and the drivers are in the street with borough taxis and people are able to hail them down, I think a lot of the questions people will figure out for themselves. Drivers are smart, passengers are smart. Our job is to just get those cars out on the street so people can flag them down."