Who Had the Better Week—Cuomo or Christie?
Both rock stars in their own right, both trying to right their states' ships, and both building serious momentum for a potential presidential run. Every Friday, we'll look at who's week will look better on a résumé come 2016.
Check out last week's results here.
Andrew Cuomo
Breaking out the infra bank
Twenty e-mails: That's how many Governor Cuomo's press office sent out in just two days this week touting almost $1.5 billion in new infrastructure investments across the state.
The first wave of e-mails announced that New York Works, the Governor's infrastructure bank—created last December, but funded by legislation just last week—would spend $1.2 billion to accelerate road and bridge projects. The second wave of e-mails laid out another $143 million for improvements to parks.
Large investment in public works projects—seems just the least bit New Deal-y, no? Transportation Nation's Andrea Bernstein notes that New York Works stands out at a time when such spending has slowed across the country.
In recent years, Governors have killed big infrastructure projects, and Congress has yet to pass a surface transportation bill. But Governor Cuomo is taking full political advantage of his new infrastructure bank by pushing out word of popular projects — which not only provide needed area parks, but also create jobs around the state.
Note the quick turnaround here. Less than two weeks after negotiating a pension reform package reviled by public employee unions, potentially compromising a large chunk of the Democratic base (and the party's bank), Cuomo cuts the other direction and pumps money in to infrastructure, which Democrats traditionally love. It's like going all-in some flowers for your girlfriend a week after forgetting your anniversary.
What's next? A Gumby rendition of "Let's Stay Together"?
Sweet 2016
It's unscientific and all in good fun, but a feather in Cuomo's cap nonetheless.
In honor of March Madness, the Washington Post politics blog The Fix held a "Sweet 2016" bracket competition that wrapped up this week. Readers voted on 2016 presidential potentials from both parties, and the #1-seeded Cuomo was crowned champion on Monday, beating out Senator Marco Rubio (R-FL) in the final match.
Chris Christie, a #2-seed, fell to Rubio in the semi-finals.
---
Chris Christie
Jersey to Jerusalem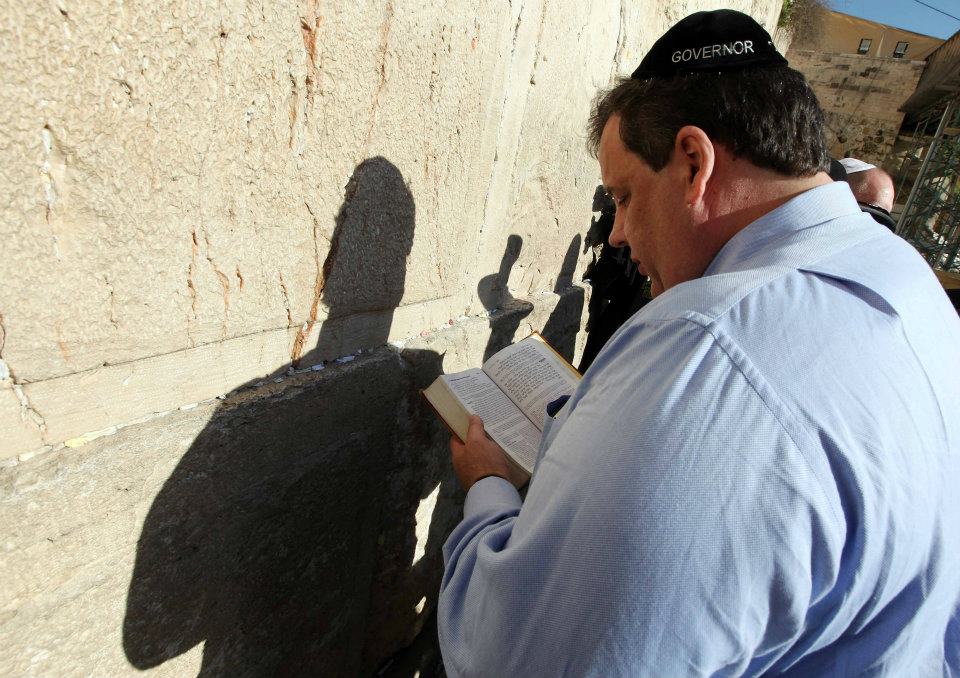 Yes, that's Chris Christie, custom yarmulke and all, praying at the Wailing Wall in Jerusalem, Israel.
The New Jersey Governor has spent most of this week in Israel on what he's dubbed a "Jersey to Jerusalem Trade Mission," aiming to strengthen economic ties and foster good will between the Garden State and the Holy Land.
The trip should foster more fawning from the GOP, too. It looks really good for a Republican presidential hopeful to get all buddy-buddy with Bibi Netanyahu, and the earlier the better. It's also no coincidence that Christie's using his first trip abroad as governor to visit the country that Barack Obama hasn't visited once during his first term as president. 
He'll come back to Jersey with foreign policy and friend-to-Israel cred, basic criteria for conservative appeal in this day and age. L'chayim.
---
Ultimately, this was a great PR week for both governors: the Democrat got to announce a slew of new spending on infrastructure, and the Republican got photo-ops galore with Israeli leaders. It's as if Cuomo and Christie retreated to their respective political corners for a moment, attempting to re-energize their bases with some ideologically pure initiatives after a long season of budget negotiations and compromises.
But Cuomo's got the edge here for two reasons. First, it's hard to find similar infrastructure investments elsewhere in the United States; it's not hard to find another Republican governor making the pilgrimage to Israel. Indiana Governor and potential 2016 candidate Mitch Daniels is making the same trip at the same time.
Second, the relative importance of Israel as a campaign issue four years from now is harder to gauge than how popular public works projects will be with Democrats.
More to the point, let's not forget that, in the fall of 2010, Chris Christie killed the ARC Tunnel, which would have doubled commuter rail capacity between New York City and New Jersey, and was the largest infrastructure project in the United States at the time. How's that for contrast?
→Final Score: Cuomo 4 — Christie 2