After a Bruising 2 Seasons, Mets Fans Remain Hopeful on Opening Day
Thousands of Mets fans streamed into Citi Field on Thursday to see their team beat the Atlanta Braves 1-0 in the season opener. They're hopeful that this season will not be a repeat of the past two.
David Wright hit an RBI single while Johan Santana pitched five innings of two-hit ball in his long-awaited return from shoulder surgery. New York's revamped bullpen picked up for Santana and shut down the Braves, while the shortened fences at reconfigured Citi Field hardly came into play. New center fielder Andres Torres hobbled off field after re-injuring his strained calf.
Despite the positive start to the season, many Mets fans said they had very modest expectations for this season.
"Very un-optimistic," said Michael White. "I don't know what they're going to do. So after the first week we'll find out whether they have a real team or what they had the last three years."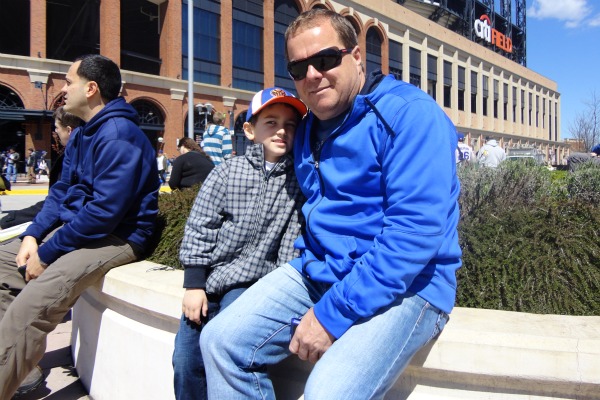 White, 40, brought his six-year-old son Matthew who's become a Mets fan to see the game. While he did pass on the tradition to his son, White said he goes to the Bronx when he wants to see "a real baseball game."
"If you go to a Yankees game, you expect them to win," White said. "With the Mets you hope they win."
(Photo: Michael White brought his son Matthew, 6, to the Mets' opening day. Mirela Iverac/WNYC)
The Mets lost its star shortstop Jose Reyes last year. The team has had to slash their payroll after ownership paid out a $162 million settlement for its part in the Bernie Madoff Ponzi scheme last month.
Some fans, like 22-year-old Joe Maffei, who's been a fan since "he was in diapers," said he hoped the settlement meant the owners, Fred Wilpon and Saul Katz, could go back to trying to re-build the team.
"I'm always optimistic at opening day," Maffei said. "And it helps me get through the season to think that they'll win. There are a lot of guys who have potential on this team."
Also striking a positive cord was Frank Palazzolo, who brought his 11-year-old son Brandon to see the game. "I think the worst is behind us and there are better days ahead," he said. "Hope springs eternal, and hopefully this is a good season."
If attendance is any indicator, it was a good start to the season. Total attendance for the game was 42,080, a record for the stadium, according to the Mets.
The Mets sputtered into a dismal fourth place in the National League East last year. The year before, the team had a colossal late-season collapse.
Caitlin Thompson and the Associated Press contributed reporting.