Bus Protocol: A Work In Progress
For New Yorkers, all rules are just suggestions.
Exit at the rear of the bus?  Fuggedaboutit!
"Please exit through the rear door," quipped the sonorous lady in the recorded messages that drone on over the din of noisy passengers.  There's a reason for that — it makes bus riding much faster for everyone.  In some cities, you get a ticket for exiting at the front.
But Iris Holland was oblivious to the message as she exited from the front of the bus onto Second Avenue.
"I'm going for physical therapy, so instead of getting out at the end and having to walk, I sit near the front and get out at the front," Holland explained.
The rules are there to help make for a faster ride, especially on the MTA's Select Bus Service, where you can board or exit through any door. The catch with this service is you have to buy a ticket before you board. It's caused no end of confusion.
The other day along New York City's M34 Select Bus Service, a gaggle of would-be passengers queued up for an approaching cross-town ride. It was orderly enough; no pushing, shoving or angry glances to speak of.
"How do you get a bus ticket?" Alice Sramkova asked. She was visiting from Prague, Czech Republic, with her two pre-teen daughters trailing behind her.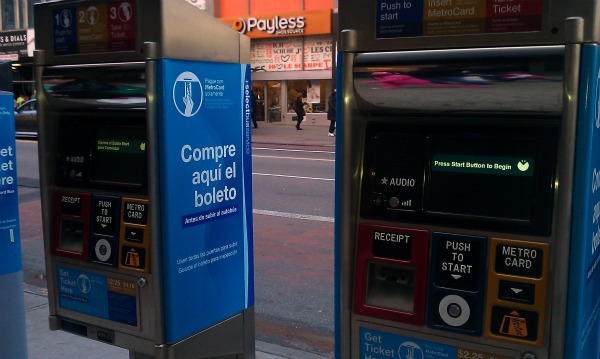 Other passengers leaned in to offer advice. "This is your ticket," said one, pointing to her Metro Card. "No, your receipt is your ticket," clarified another. By now a circle of uninitiated passengers surrounded Sramkova. Many did not realize they had to pay before the bus stopped.  "I guess we got on the bus twice without having a valid ticket," Sramkova said smiling.  Bus drivers don't check for receipts, so it might be tempting to hop on board and ride for free. But that could turn out to be one expensive ride. Anyone caught without a receipt could face a $100 fine.
(Photo: Kiosks where Select Bus riders are supposed to pay before boarding the bus. Janet Babin/WNYC)
Such is the confusion surrounding the Select Bus Service — that is, buses designed to speed up designated routes. To get them to move faster, the MTA has initiated several changes, including limited stops, paying before boarding the bus with a Metro card only, boarding via the front or the back doors and using dedicated bus lanes.
According to the MTA, the changes trim up to 20 percent off of travel times. Before Select buses, the average speed of any city bus was 4.5 miles per hour – that's only a hair faster than walking.  The MTA began speedier service along 34th Street in November 2011, but passengers are still getting used to it.
The M15 Select Service bus, which travels down up First Avenue and down Second, has been around longer than the 34th Street Select Buses, but, even there, passengers still have some blank stares and misunderstandings as they tried to board the bus at 14th Street and Second Avenue last week.
Paying before boarding the bus does not seem to come naturally to many passengers. "I don't see what the big deal is to use your Metro Card and get on the bus; it's a waste," rider Joan Marks said.
The MTA said the purpose of paying off board is to save time.  Think how long it takes to swipe all those Metro Cards as people enter the front of the bus, and then there are those who pay the $2.25 fare with coins, which takes even longer.
And Metro Card holders also seem confused about the process. Bus drivers who notice riders flashing Metro Cards their way will often tell riders to get off the bus. That's what happened to Mona and Osama Salih when they boarded an M15 bus last week without the required proof of payment receipt.  Both showed the driver their Metro cards, thinking that's all they had to do.
"The bus driver said you have to pay off the bus and then he left," Mona said. She could not believe he didn't wait. "Why have a Metro card if you have to have a receipt," added Osama.
When riders don't know the drill, some bus drivers will leave them behind. But not always.
"There's a lot of tourists," said bus driver Al Thomas. He said he will almost always explain how they are supposed to pay, but will only wait for them to pay if he is not holding up all the other passengers. "Depending on the light, because if you wait for everybody, it defeats the purpose."
The Salih's boarded a second Select Bus minutes after the first one had left. And this time, they carried their crumpled receipts in their hands, just in case.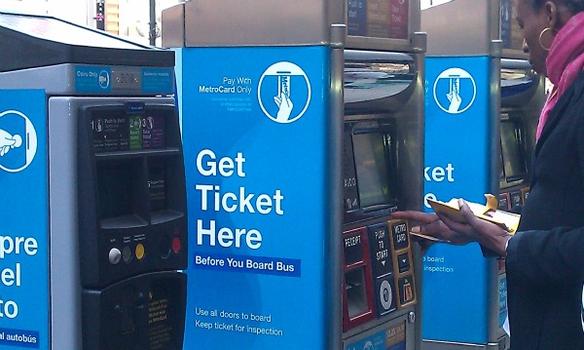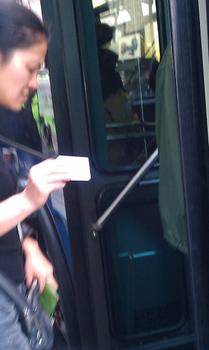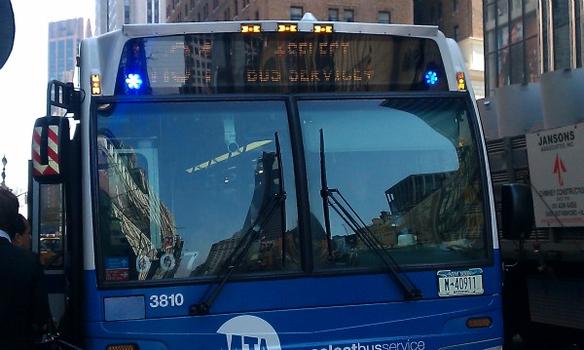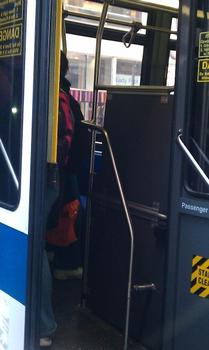 of