Niche Market | Passover Judaica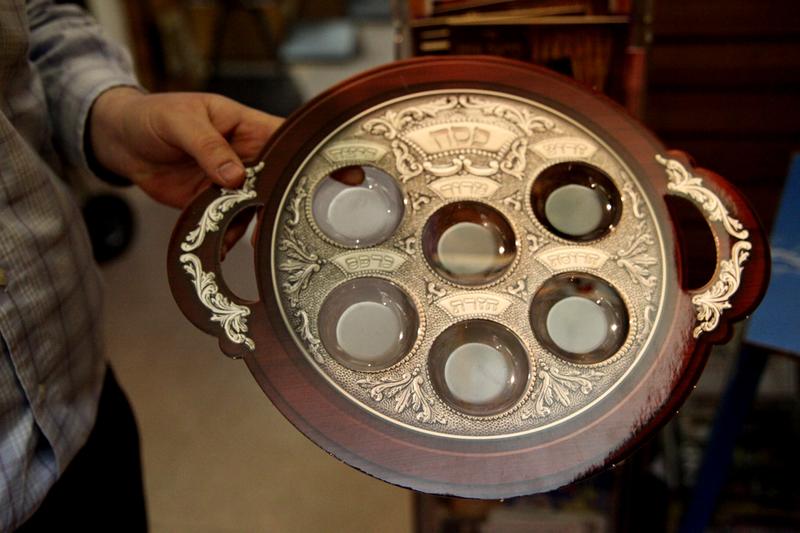 New York is a city of specialists from foodies to academics, laborers to shopkeepers. Every Wednesday, Niche Market will take a peek inside a different specialty store and showcase the city's purists who have made an art out of selling one commodity. Slideshow below.
Judaica World
329 Kingston Avenue
Brooklyn, NY 11213
Just a few days before the Jewish holiday of Passover (Pesach) begins on Friday night, Kingston Avenue in Crown Heights is buzzing with commerce. Groceries advertise matzo on sale while hardware stores push their overflow of sink inserts and plastic tablecloths on the sidewalk. (Many households in the neighborhood's Chasidic Jewish community have a custom of covering their kitchen surfaces for the entirety of the eight day holiday to ensure that no crumbs of chametz — leavened foods forbidden during Passover — are accidentally consumed.)
Judaica World is one of the busiest stores on the block. The store, according to salesman Yitzchok Rimler, son of the owner, sells "anything and everything you need for Judaism" all year round. It has a slew of special Passover products for sale this month.
Boxes of matzo — a thin, cracker-like unleavened bread — hailing from Brooklyn, Montreal, the Ukraine and Israel are stacked in the front. "I've tasted them all, the ones that are made here, whether it's Boro Park or Crown Heights, they do taste better," asserted Rimler, a bearded, fast-talking father of seven. Beyond the matzo, he pointed out non-edible products vital to the ceremonial Passover meal: Seder matzo covers (cloth bags with colorful embroidered designs to place matzo inside); Seder plates on which the symbolic foods are placed; pillow cases for the cushions people recline on during the meal; the haggadahs — books that outline the order of the Seder meal; chametz-finding kits and specially themed "Passover toys" like a finger puppet set of the ten plagues.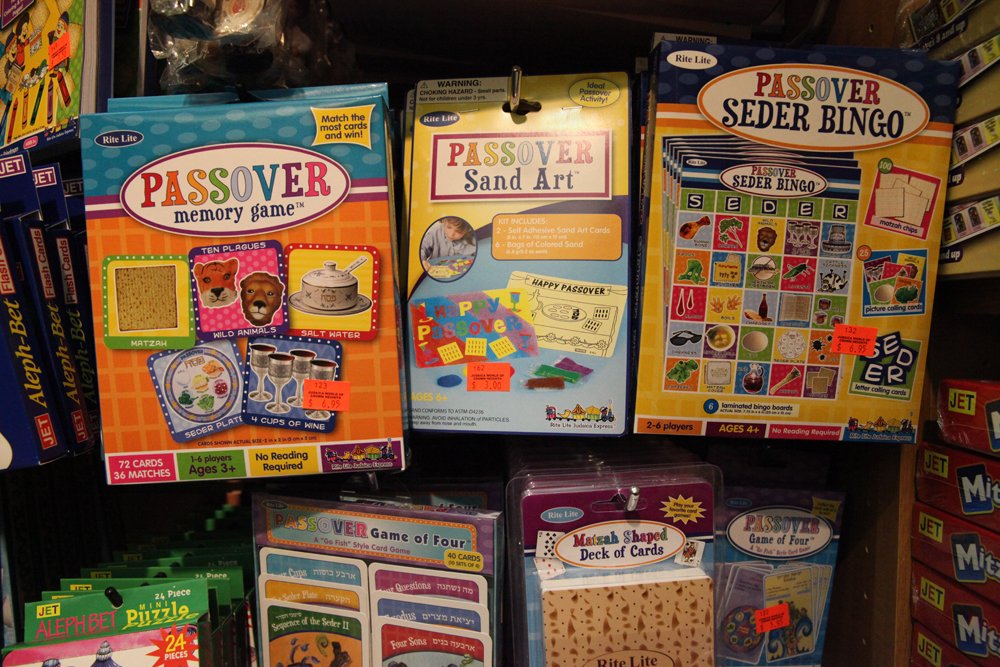 Hinda Singer, who lives in Crown Heights, was wracked by indecision over choosing a matzo cover. "The white is going to get dirty, the red I don't like. The red looks like wine, but maybe that's better because if the wine spills on it — I don't know. I'm looking for something nice, I don't know. Too many choices!" she exclaimed before ultimately choosing a dark blue velvet matzo cover with golden embroidery. Meanwhile, at the check-out counter, Rimler joked with a woman who's husband was a nervous wreck over cleaning their house of chametz for the holiday.
The store has a selection of different Haggadahs of different lengths and languages, but the majority of customers at Judaica World are locals who belong to the Chabad movement of Chasidism, and most of them select Haggadahs written by Chabad rabbis. Newlyweds often purchase leather bound haggadahs and emboss the name of their husband or wife as a gift. Another top seller this time of year is the "Blumenkrantz" Passover guide, a thick tome outlining all the items Jews are allowed to use during Passover. "You'll see people going with these books let's say to Target, they want to buy toothpastes, they want to buy soaps, there are many things that are not Kosher for Passover," Rimler explained.
It's also a busy time for the store's regular stock and trade of Jewish prayer books, yarmulkes, prayer shawls called tallit, traditional garments worn by observant Jewish men called tallit katan with fringes of tzitzit, specially knotted threads hanging from the corners, the tefillin used in Jewish prayer, which consists of two small leather boxes and straps containing four sections of the Torah inscribed on parchment, and mezuzahs, prayers hung on the doorposts of Jewish homes (prices differ depending on the quality of the handwritten inscription). Many parents come regularly to the store to purchase Jewish themed DVDs and board games with names like "Kosherland" and "Mitzvah Park." The store also sells a wide selection of portraits of the famous Lubavitcher Rebbe, Rabbi Menachem Mendel Schneerson, who for many years led the Chabad movement from his headquarters on Eastern Parkway. "Everybody has a picture of the Rabbi in the house," Rimler said.
Judaica World is a neighborhood shop, but it's also a destination store for Jews around the world and other parts of the city. Rabbinical student Moshy Minsky stopped by for five boxes of matzo he planned to distribute in Manhattan, "to bring the light to people who are not so observant like us," he said. Rabbi Zalman Paris, of the Chabad of TriBeCa, dropped in to pick up extra yarmulkes for his kids. According to him, "there's no where to buy these things in lower Manhattan."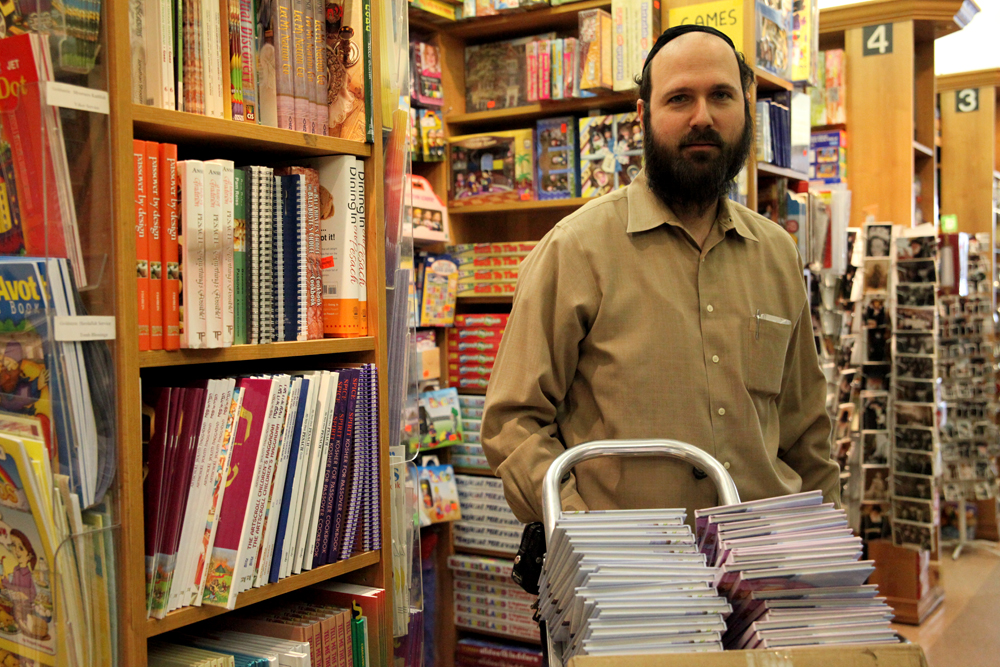 (Photo: Yitzchok Rimler stacking shelves before the Passover rush./Sarah Kate Kramer for WNYC)
Interview with Yitzchok Rimler, salesman at Judaica World
What do you sell here at this store year round?
Anything and everything you need for Judaism, from the prayer books and the prayer shawls to the phylacteries to the candelabras that you have for Shabbat, the covers for the Challah, the kippot that we wear, you name it, and of course there's a whole line of Jewish games and toys, books by the thousands on all different topics, CDs, DVDs, all of course Jewish related.
How does the store change over the course of the year?
For example, like the matzos at the front, normally that's clear. In the Hanukkah season, when we do the menorahs, the festival of lights, we'll have two big things just for that — the candles, the oils, the menorahs, all those things. At Sukkot time, we use the special lemons, the Esrog, we'll have that there. That's like our seasonal corner, right when you walk in. When it's not a season, we keep it clear, it's just a nice area where the carriages can be stored, let the mothers walk around.
How do the toys here differ from those at Toys"R"Us?
We don't sell remote controlled cars here, for that you go to Toys"R"Us. Everything here has something to do with Judaism. For example here you have an Alef-Bet bingo, the Hebrew alphabet, it's a bingo set with those letters. We have a game here called shopping for Shabbos. Here you have the Alef-Bet, you can get the same thing in ABC, true, but we have the Jewish version, everything here is something to do with Judaism.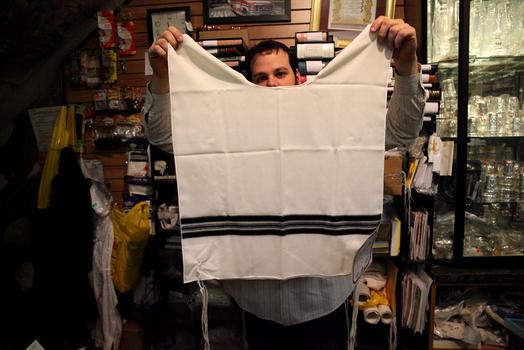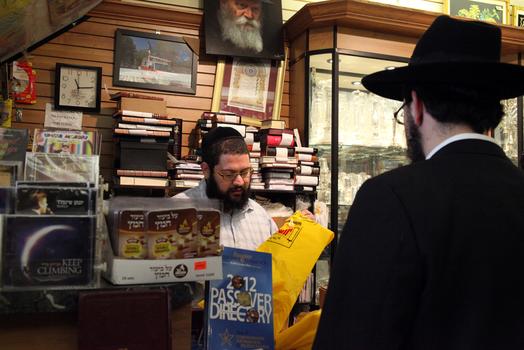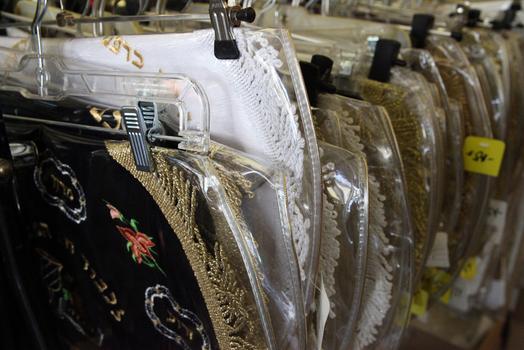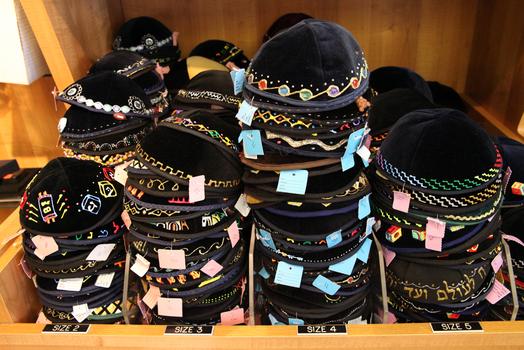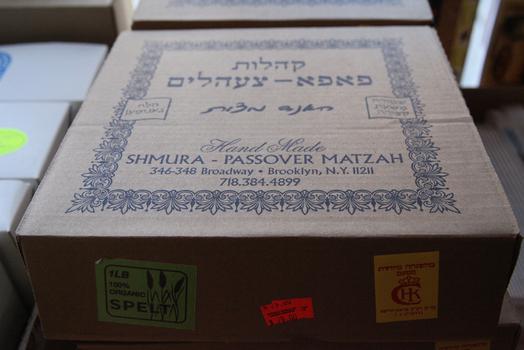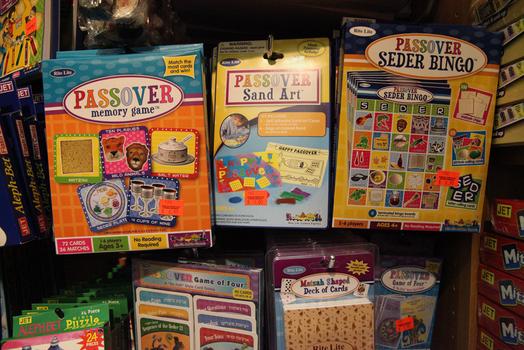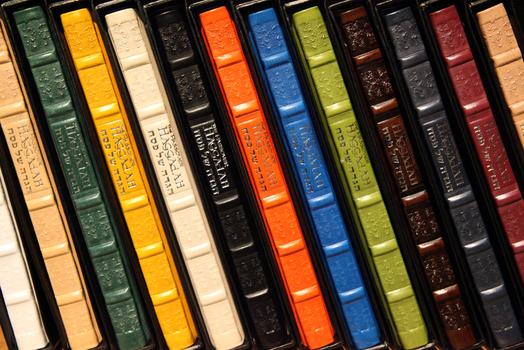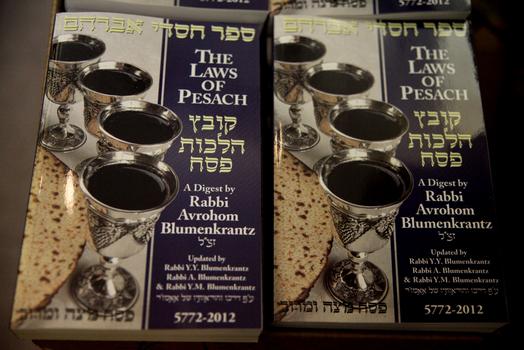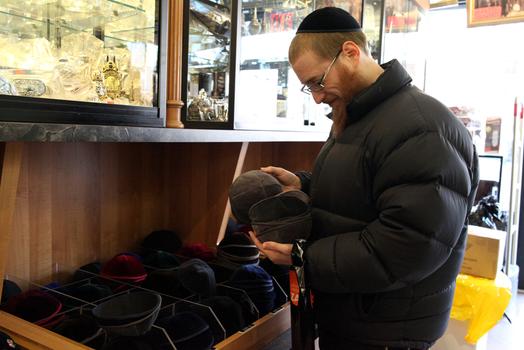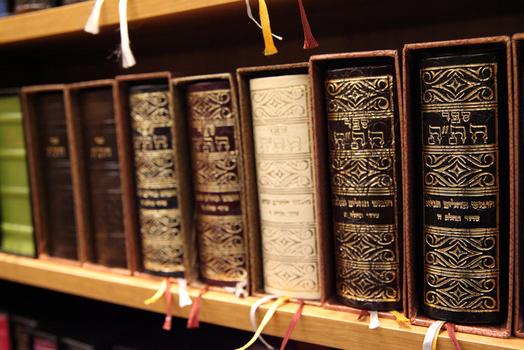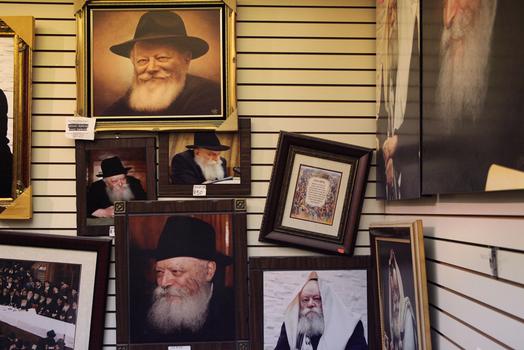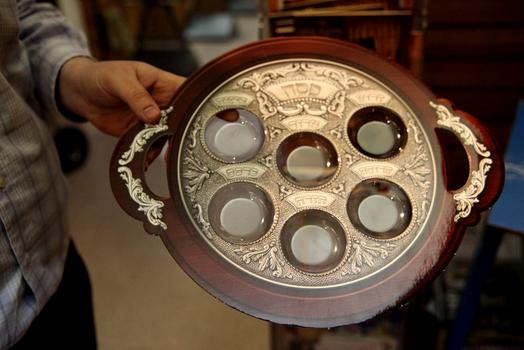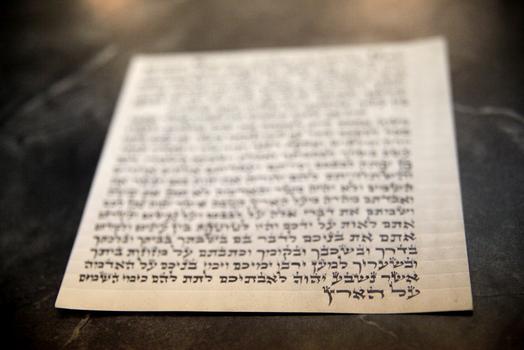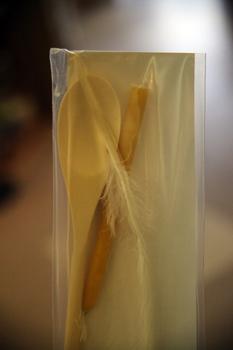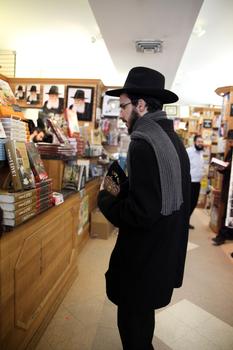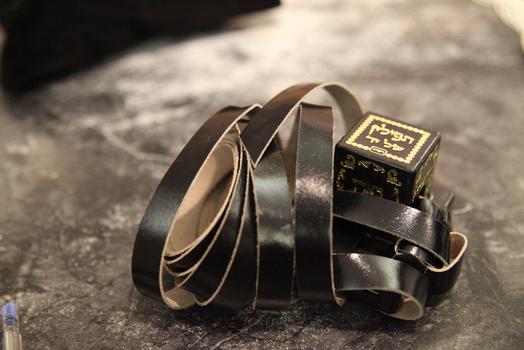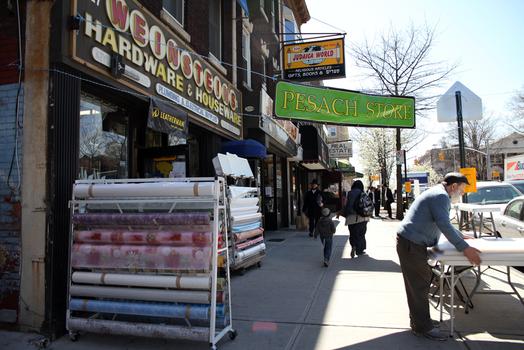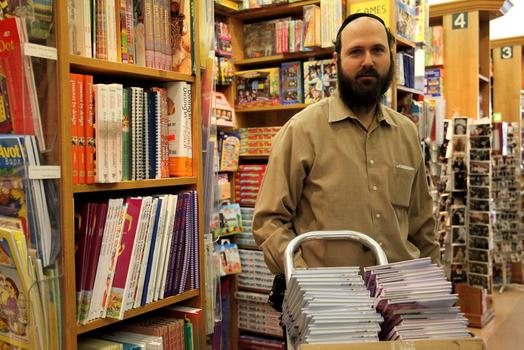 of