On the Brink | The New Face of Poverty: Meet Janice
In our new series On the Brink: The New Face of Poverty, meet Janice Hardy, an unemployed mother of two who is facing homelessness as she, like many Americans, grapples with supporting her family and tries to get back on her feet.
Janice Hardy, 51, rents a tidy two-bedroom apartment in a townhouse on a tree-lined street in suburban Somerset, N.J.
Stacked in the living room of the apartment she shares with her college-age son, the unemployed single mother of two has 50 cardboard boxes stuffed with her life's possessions, waiting to move out at any moment.

"Any day now I'm going to get a knock on the door," she said.

Hardy hasn't made her $1,500 monthly rent since January. She has been unemployed since December 2009, joining the ranks of the state's currently jobless 9 percent and a fraction of those who are slip sliding from the middle class onto the brink of poverty.

New Jersey is one of the states with a smaller number of residents living below the poverty line. But from 2009 to 2010 that number did increase from 9.3 to 10.7 percent, according to the Census Bureau.

The former mid-level AT&T manager never fathomed she'd be in this position: unemployed for more than two years, cobbling together food stamps and child support payments to make ends meet and facing eviction from an apartment she moved into after selling her beloved three-bedroom home.

"I did everything that everybody would call the American Dream," Hardy said. "You buy your home. You buy a car. You raise your children, right. You do everything — and then everything's gone and you have to start over again. It's disheartening, but it's reality."


A Life Changed

When Hardy discusses about how her family's life has changed, she talks about moderately priced simple joys that are no longer affordable: vacation in Disney World, day trips to Washington, D.C. and New York City, concerts, Broadway shows.

But she said the hardest thing is that she fears she might renege on a promise she made.

"I promised both my sons that I would see them through college," Hardy said, her voice cracking. "Ever since they were young, they were taught not to take college education for granted, that you had to get a college degree."

Hardy is a petite woman with curly hair. Her 21-year-old son Jarell is a sophomore at Raritan Valley Community College in Central New Jersey, and her older son James, 25, is married and lives in New York City with his wife.

These days, Hardy receives $250 a month in food stamps and $400 in child support for Jarell. He works about 25 hours a week at Wendy's — the same place he started when he was 16 — and helps with the bills.

The electric bill comes up to about $150 a month, and gas for Hardy's red Honda Hyundai Tiburon, currently her only possession, comes to about $80 a week. She has no other source of income.  

"I'm just at a point in my life where I realize I have to start all over," Hardy said. "And that's just it. I have to start over."
Jarell said he now naturally wants to help his mother with any expenses they have. But when he was a teenager he used to get frustrated.

"Working … would get tiring," Jarell said. "Working and constantly putting money towards something I wish my mom would be able to but she can't. That's a huge burden on a child growing up."

A Nearly Decade-Long Struggle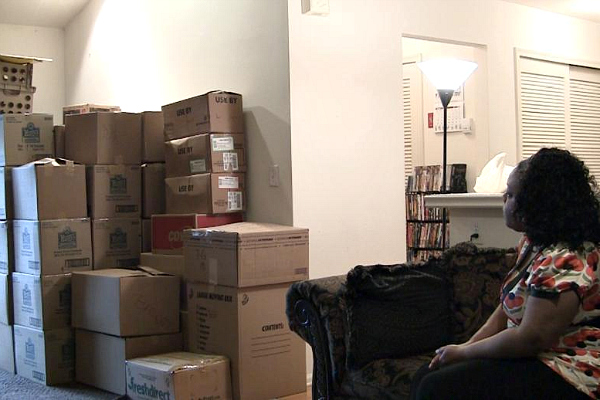 In 2003, Hardy was laid off from AT&T after working there for 19 years, part of a large downsizing of 3,500. It took her 15 years to work her way up the ranks for mailroom clerk to network engineer. She managed crews of technicians installing phone and data lines and earned around $50,000.

When she was laid off, Hardy believed she wouldn't have trouble finding another job.

"I thought it would be a great time to start over," she said.

During her first year of unemployment, Hardy took time to recover from a shoulder injury. Supplemental Security Income check due to the disability and severance package from AT&T, which amounted to around $80,000, helped sustain her.

But a year later, at 44, Hardy was once again at the bottom of the corporate ladder. She began searching for work and received offers only from temp agencies for administrative assistant positions.

"My phone rang off the hook," Hardy said, recalling that period. "There were job hunters out there, but nothing permanent."

Over the next four years, from 2005 to 2009, Hardy worked as an administrative and legal assistant.

In 2007, foreseeing changes in the housing market, Hardy decided to sell the three-bedroom condo in Franklin, N.J., she had bought 11 years earlier.

Home ownership, Hardy said, was "a major dream" she had managed to fulfill, but circumstances demanded giving it up.

She got $50,000 profit from the condo sale, which helped stave off some of the costs of college for her son James. But Hardy gradually had to tap into other resources too.

"I had a 401(k) plan with approximately $30,000 or more in it," Hardy said. "In order to keep the household running … I would dip into it. Maybe $5,000 here, a few thousand there, whatever I needed to maintain the household."

Eventually she depleted her 401(k). In December 2009, Hardy completed her part-time administrative assistant position at Johnson & Johnson. Since then she hasn't been able to even find other temp jobs.

Jon Osborne, vice president for research at Staffing Industry Analysts, which follows temporary staffing agencies, said not getting a job, temporary or permanent, comes down to supply and demand.
"If you've been looking for a job for four years, or five years, or however long she was looking for a job, and you don't find one … there's a little bit of feedback there," Osborne said. "That skill set is not in high demand."
The telecommunications industry has gone through major changes. But Tarek Sadaawi, professor of telecommunications at City College, said the network engineer position Hardy held at AT&T is not obsolete, adding "the skills and the know-how is transferable" to other technology companies.
Hardy, however, has not been able to make that switch. Overall since losing her job at AT&T, Hardy has not held a full-time position.

"In my 30s, I thought life would be a lot more comfortable," Hardy said. "[I] never thought that I wouldn't have retirement."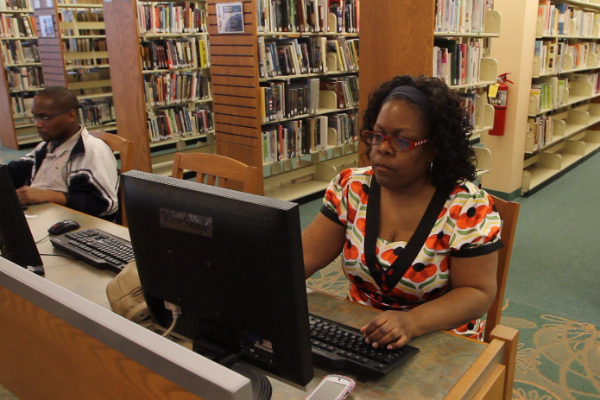 Job Search
Hardy spends hours applying for jobs online each day. Since phone and Internet were cut off in her home in January, she has been using computers in the Franklin Public Library.
Hardy said she sends applications for 10 to 20 jobs a week, ranging from positions in telecommunications and project management to jobs as an administrative assistant, flight attendant or supermarket grocery store employee.
"I know a lot of people say, 'Well, why don't you just get a job somewhere? Why don't you work at the supermarket?'" Hardy said. "I have applied for those positions. Either you're over-qualified or for whatever reason you don't get a call. "

Despite her difficult situation, Hardy remains optimistic and said she believes she will be able find a job that will allow her to help Jarell go through college, buy a new home and re-start her retirement plan.

 "I don't know how I'm going do it, but I just know I will. I have to start over," she said.
Video and photos by Jennifer Hsu