Last Chance Foods: The MSG-Umami Connection
"In the case of MSG, the record is about as clear as it can be: there is no connection between consuming MSG in any form and the symptoms that are often called Chinese Restaurant Syndrome," wrote food science expert Harold McGee in the first issue of Lucky Peach, a quarterly food journal published by McSweeney's.
Instead, McGee explained that monosodium glutamate's bad rap started with a speculative letter to the editor published in a 1968 issue of the New England Journal of Medicine. A doctor noted that he and his friends would experience weakness, numbness and headaches after eating Chinese food. He was curious whether the MSG used in Chinese food might be the cause. The letter writer offered no evidence to back up the claim and did not have a background relating to how the body processes MSG. But the missive did result in a catchy headline: "Chinese Restaurant Syndrome." 
"[The letter asked] a question, it wasn't an answer, but it was such a snappy title that people picked up on it like it was news … and from that letter, it spread," explained Peter Meehan, the editor of Lucky Peach and co-author of the Momofuku cookbook. "It was immediately rejected as not being true, but people picked up on it. I guess today we would say it went viral."
By the 1970s, MSG was widely reviled and "No MSG" became a commonplace disclaimer at Chinese restaurants.
"There's a psychosomatic aspect to it that we've been conditioned to believe that MSG is bad for us or will cause these negative reactions," noted Meehan (pictured below). "There's no science to back that up."
Actually, monosodium glutamate is naturally present in many everyday foods, both of the processed and whole food varieties. Sure, it's in canned chicken broth, packaged ramen, Cheetos and Doritos. Then again, MSG is also found in seaweed, mushrooms, tomatoes, Parmesan cheese and aged beef.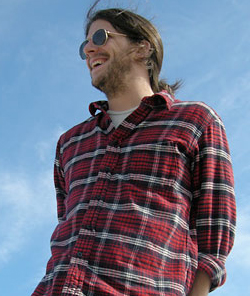 Meehan acknowledges that, on a purely literal level, "It can be labeled as a natural flavoring, because it does come from a natural source and it is a flavoring." The flavor that MSG triggers is umami, a taste of savoriness that joins the widely known flavors of salty, sweet, sour and bitter. 
In recent years, chefs have also become increasingly aware of how glutamates play a role in creating the taste of umami. While high-end chefs aren't using pinches of MSG extract in their food, they are paying close attention to the natural ingredients that include glutamates.
"We're seeing a lot of dashis in restaurants these days, which is a Japanese type broth and you make it by steeping kelp, a seaweed, in a flavorful liquid and that kelp is loaded with naturally occurring MSG," said Meehan. He also notes that fermented foods are also high in glutamic acid.
"I think chefs have become more aware that this flavor is real and they can harness it," said Meehan. "And it adds a dimension to their cooking that otherwise they're overlooking, you know, in that you wouldn't want to not add acid or salt of sweetness to a dish. You pay attention to the level of savoriness to that dish and you make your food more delicious by doing that."
Below, try chef David Chang's recipe for the glutamate-laden bacon dashi with potatoes and clams. Also, for those interested in using MSG as an additive, Meehan included a recipe for Phat Phak Kuut (stir-fried fiddlehead ferns) at the bottom of this New York Times Magazine post.
Bacon Dashi with Potatoes & Clams
Reprinted from Momofuku by David Chang and Peter Meehan. Copyright © 2009. Published by Clarkson Potter, a division of Random House, Inc.
Ingredients
Bacon Dashi (see below)
1 pound small fingerling potatoes, scrubbed
2 dozen littleneck or butter clams
¼ pound (3 or 4 slices) smoky bacon, preferably Benton's, cut crosswise into 1- to 1 ½- inch batons (1/2 cup)
Usukuchi (light soy sauce) if needed
Mirin if needed
Greens from 6 scallions, cut into 1 ½-inch lengths and finely julienned, or ½ cup scallion oil (see below)
Method
1.  Heat the bacon dashi in a large soup pot over high heat. Once it boils, turn the heat down so the dashi simmers and add the potatoes. Cook for 10 to 15 minutes, until tender. (Check by tasting one.) When the potatoes are cooked, remove them from the pot with a slotted spoon and reserve; leave the bacon dashi on the stove over low heat.
2. While the potatoes are simmering, put the clams in a large bowl of cold water and let them sit for a few minutes to purge any grit, then scrub their shells clean of any sand.
3. Heat a 10- to 12-inch cast-iron skillet over medium heat for a minute or so, until very warm. Add the bacon and cook, stirring occasionally, until it shrinks to about half its original size and browns but does not become overly crisp, about 4 minutes. Remove the bacon with a slotted spoon and drain it on paper towels (reserve the bacon fat for another use if you like).
4. Meanwhile, when the bacon's getting close to done, raise the heat under the dashi and bring it to a boil. Add the clams, cover the pot, and boil the clams until they're all open, 8 to 10 minutes. Remove the pot from the heat, add the potatoes to warm them up in the broth, and taste it for seasoning. Although bacon dashi is salty and the liquid the clams added to the broth is also salty, the broth might need a splash of soy sauce; or if it needs sweetness or acid, add a splash of mirin.
5. Ladle the soup out into bowls, avoiding the liquid at the very bottom of the pot if the clams threw off sand while they were cooking; discard any clams that didn't open. Garnish each bowl with some of the crisped bacon and a scattering of julienned scallions or a ring of scallion oil.
Bacon Dashi (Makes 2 quarts)
Ingredients
Two 3-by-6-inch pieces konbu
8 cups water
1⁄2 pound smoky bacon, preferably Benton's 
Method
1. Rinse the konbu under running water, then combine it with the water in a medium saucepan. Bring the water to a simmer over medium heat. 
2. Add the bacon. Bring to a boil, then turn the heat down so the water simmers gently. Simmer for 30 minutes at 60 degrees Celsius. 
3. Strain the bacon from the dashi. 
Scallion Oil (Makes about 1 cup)
Ingredients
1 bunch scallions, whiskers trimmed and any limp greens excised
1 teaspoon kosher salt
1 ¼ cups grapeseed or other neutral oil
Method
1. Roughly chop the scallions. Put them in the jar of a blender, along with the salt and oil, flip the switch to puree, and let the blender do its thing until the scallions and the oil are almost one — stop it before they're totally emulsified.
2. Set a fine-mesh strainer lined with a piece of cheesecloth over some sort of receptacle to collect your scallion oil. Pour the scallion sludge into the strainer. Use a wooden spoon to press the oil out of the scallion mush, but don't force the issue: you want just a limpid green oil, so leaving some behind in the strainer is fine. Use the oil immediately or keep it for a day or two in the refrigerator.