Bracket | Most Fashionable Politicos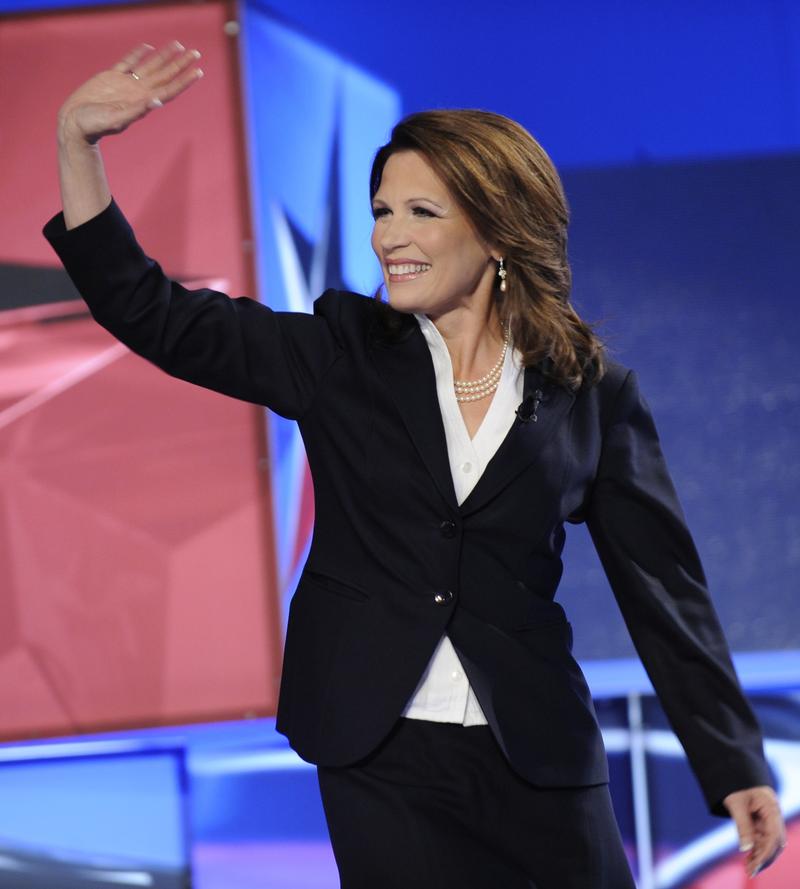 Fashion and politics don't seem to have much in common, but they share at least one key principle: In both, you've gotta look good.
That's never been more true than it is today, when everyone can see almost everything a politician's doing at almost any time. World leaders have their own stylists and dressmakers. It's always a question what color tie Barack Obama will wear to the State of the Union. On the campaign trail, candidates have been known to enjoy $400 haircuts.
In some cases, a signature style may allow a politician to gain traction among certain communities, or drive home certain narratives. Rick Santorum's sweater vests, while not fitting the dictionary definition of "fashionable," go along with the "working class everyman" trope that his campaign has been selling hard over the past year.
While the vest may help him win votes on the campaign trail, it won't get him in to this bracket. We've picked sixteen fashionable politicians; it's up to you to decide who's the best-dressed.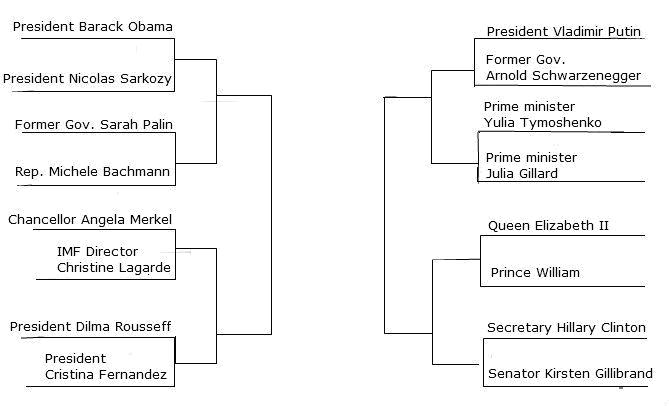 Feminism Division: Dilma Rousseff vs. Cristina Fernandez

Rousseff (L) and Fernandez (R) are the presidents of Brazil and Argentina, respectively.
                                      VS.                           
Influential Power Division: Hillary Clinton vs. Kirsten Gillibrand
Clinton and Gillibrand have both served as a senator of New York state. They have similar styles, often opting for practical, tailored suits.
                                           VS.         
Royal Division: Queen Elizabeth II vs. Prince William
Both from the same royal family, William inherited his grandmother's nobility, but did he also inherit her fashion sense?
                                      VS.        
Cold Beauty Division: Yulia Tymoshenko vs. Julia Gillard
Australia's Gillard and Ukraine's Tymoshenko have a lot in common: they're both prime ministers, they favor light colors, and they both know how to class it up.
                                        VS.        
Conservative Division: Angela Merkel vs. Christine Lagarde
Both Germany's Merkel and France's Lagarde are powerful female politicians that dress in conservatively tailored suits.
                                     VS.        
Versatile Division:

Sarah Palin vs. Michele Bachmann
Palin and Bachmann are each stylish in their own way, with professional, smart and clean-cut outfits.
                   VS.        
Ambitiousness Division: Vladimir Putin vs. Arnold Schwarzenegger
Each a man's man in his own right, Schwarzenegger and Putin go for traditional suits.
                                        VS.         
Presidential Division: Barack Obama vs. Nicolas Sarkozy
Neither Sarkozy nor Obama is grim and stern as a president, and that's reflected in their style: understated, but with attention to details. Obama has even been called the "best-dressed prez since JFK."
                                   VS.