Micropolis: Pondering the Many Meanings of a Hoodie, After Trayvon
The hoodie has become synonymous with the black Florida teen gunned down by a neighborhood watch captain as he walked through a neighborhood wearing the sweatshirt.
Politicians from members of Congress to the City Council Speaker have sported the hoodie to show solidarity with Trayvon Martin, whose death in February sparked a nationwide debate over race relations.
Hoodies have become universal. And this is where kids in Harlem — and other predominately African American neighborhoods — see what they say is a double-standard at work.
"There was this guy talking on TV and he was Caucasian, and he was saying that he could wear anything, he could sag his pants, and have a hoodie on, and most likely cops wouldn't bother him, because of his race," said Duane McMillian, 13. "It's very unfair."
During a recent afternoon in Harlem, NYPD officers approached a group of black men on Frederick Douglass Boulevard and asking them to clear the corner.
"It's not about the hoodie," said Richie Minelli, who was among those approached. "It's about being black in a society where they think we're all just ghetto people, and we don't have a life."
Edward Lesane, an 11th grader, said he is viewed with suspicion when he sports a hoodie.
"They think that thugs wear hoodies," he said, "so they assume that every black person who wears a hoodie is a thug."
Paul Clement, a professor of economics at the Fashion Institute of Technology who is black, said he stopped his son from wearing hoodies after Trayvon Martin's death.
He said they live in a largely white enclave on Long Island, and already stand out.
"The garment itself conceals identity," he said. "And it is for this reason that it acquired its sinister meaning."
But what's perceived as sinister on black teenagers, he argues, is made to seem glamorous on others, a way of creating mystique for those who frequent stores on Fifth Avenue.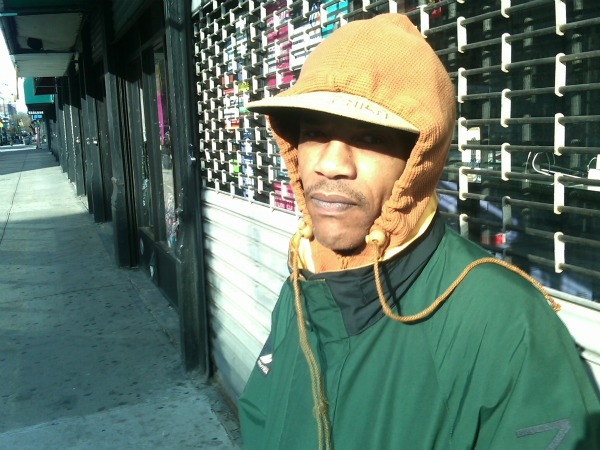 (Photo: David Cotton, a 49-yr-old Harlem resident, says his hoodie regularly draws attention from police officers in midtown, even as "drunken white frat boys" in his midst are overlooked. Arun Venugopal/WNYC)