Deacy opens Assembly district office in Rockaway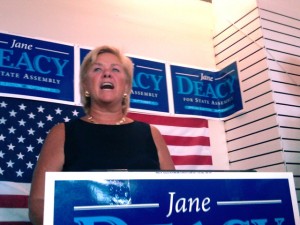 Around the corner the last stop of the shuttle train that connects the western part of the Rockaway peninsula to the Manhattan-bound A train, in the middle of a strip of single floor store fronts, Republican volunteers and leaders from Brooklyn and Queens joined Jane Deacy this morning as she opened the doors of her campaign office for the 23rd Assembly District.
"Deacy wants to go to Albany," the candidate, whose name is pronounced like the nation's capitol, told about 40 supporters. Deacy is an energetic former police officer and school teacher, as well as the local Republican party leader. She's facing off against Phil Goldfeder, a former aide to Mayor Michael Bloomberg and US Senator Charles Schumer.
Deacy, like her Republican compatriot for congress, Bob Turner, has an uphill battle: her district is 2-to-1 Democrat. But that's not as bad as local City Council District 32, which is almost 3-to-1. Republican Eric Ulrich won there back in another special election in 2009, and went on to retain it in the general election in 2010.
Given this backdrop, Ulrich's success presents a possible road map for Deacy who talked about small-bore local issues--the threat closing of Peninsula Hospital posed to the seniors, the need for both jobs and security as the nearby Aqueduct Race Track racino looks to move forward--while imploring supporters to help her build an on-the-ground volunteer network throughout the district.
"I'm asking for you to tell 100 people, and for them to tell 100 people, and for them to tell 100 people," she said. "I'm also a real estate broker and I'll tell you this: the best customer you get is someone who comes as a referral. If you ask people to support me because they'll understand that you know the issues, and that you are involved."
If there's a path to victory, it will surely rely on the evolving special election expertise of those connected to Ulrich. He is the indisputable glue holding the local Republicans together, and a rising star in local politics. He casts Deacy as the straight-talking anti-insider--"a breath of fresh air." Multiple speakers compared Deacy's outsider status to the well-connected Goldfeder, who left Schumer's office to run the race for Assembly.
"Her honesty is going to resonate with the voters," Ulrich said. "She doesn't have all the answers and you're not going to agree with her 100 percent of the time but she's not there to blow any smoke."