Comptroller Liu's campaign treasurer arrested--updated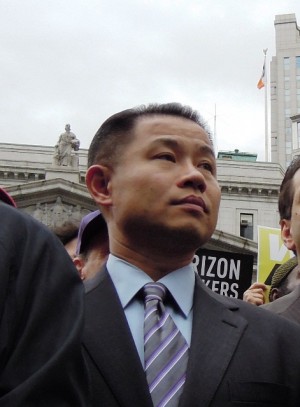 Colby Hamilton / WNYC
With reporting from WNYC's Bob Hennelly
UPDATE: New York City's comptroller says he plans to reassess whether to run for office in 2013 following the arrest of his campaign treasurer in a continuing probe of the Democrat's fundraising efforts.
Comptroller John Liu said, "We are going to sort through this stuff and figure out what the next course of action will be."
Liu, considered a potential candidate to succeed Mayor Michael Bloomberg, faced a throng of reporters Tuesday night, wanting to know if the arrest of a key player in his campaign had derailed his plans for 2013.
But he defended the conduct of his campaign.
He faced reporters minutes after his 25-year-old campaign treasurer Jia "Jenny" Hou was released from custody.
Earlier in the day, Liu released a statement, courtesy of a spokesperson, on Jia "Jenny" Hou's arrest:
I am stunned by this news about Jenny Hou.  These accusations against her are uncharacteristic and unexpected.  Jenny is a smart, hardworking person who I hope will be treated fairly.
Liu dismissed reporters questions about whether the growing campaign finance scandal was hindering his responsibilities as city comptroller. "A little more than two years ago, I was sworn in as comptroller of this great city of New York. I have vigorously followed through on my responsibilities and will continue to do so."

Hou was charged with her role in what prosecutors describe as a scheme to convert multiple large illegal campaign donations into much smaller donations that would help qualify the campaign for matching public campaign finance dollars.
She faces conspiracy to commit wire fraud, attempting to commit wire fraud and obstruction of justice charges. If convicted of all charges, she faces up to 60 years in prison.
Defense attorney Martin Adelman said Hou will assert her innocence. "I believe when all the proof comes out, that's how she'll be seen," he said.
This is the latest piece of an on-going scandal over Liu's campaign's fundraising practices. In November a Liu fundraiser, Xing Wu "Oliver" Pan,was arrested and charged with helping a FBI agent posing as a wealthy donor skirt the campaign finance laws through straw donors.
In the indictment from US District Attorney Preet Bharara's office, Hou is accuse of "participat[ing] in a scheme that used straw donors to circumvent the limit on individual contributions and with the intent to fraudulently increase the amount of matching campaign funds" the campaign could receive from the city. The city's campaign finance laws allow mayoral campaigns to receive a 6-to-1 match of up to $3,534,300 in public funds.
"New York's campaign finance laws are not optional," Bharara said in a statement. "They ensure that all candidates operate on a level playing field and that everyone plays by the rules. Today, we allege that Jia Hou, a Campaign Treasurer, was a central figure in a coordinated scheme to break the City's campaign finance laws. As described in the criminal complaint, Hou concealed the use of straw donors, subverted the City's electoral system, and obstructed justice. As today's charges demonstrate, unlawful campaign conduct will not be tolerated."
While the indictment doesn't mention Liu's campaign by name, Hou's arrest brings the scandal within a hair's breadth of the candidate himself: "HOU and the Candidate are the only individuals authorized to submit disclosure statements on behalf of the Campaign."