"I'm a grassroots kid": Rafael Espinal, Vito Lopez, and the special election in Brooklyn's 54th Assembly District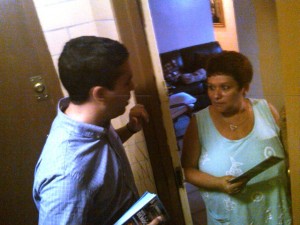 The Espinal for Assembly campaign office is tucked in the wedge of Bushwick between the J/M/Z and L trains, its windows covered in campaign fliers, on a block with a mix of three family homes and newer buildings giving off a condo vibe. It's 5:30 in the afternoon. A gaggle of just under a dozen volunteers are picking up clipboards and literature, a swatch of ethnicity that matches the evolving demographics of the district: mostly Latino, but a number of African-Americans and a few whites; all young.
They head out to make contact with potential voters ahead of the special election scheduled for September 13. Across the street Rafael Espinal can be seen, carrying black plastic bodega bags. The former aide to City Councilman Erik Martin Dilan and pick of Democratic Party boss Vito Lopez for the open seat in Northeast Brooklyn's 54th Assembly District, Espinal went out to get ice and water for office workers and volunteers.
"He's always working," notes Michael Olmeda, his campaign manager. After Espinal drops off the water, everyone gets into separate cars and head out to go door-to-door fliering in near-by public houses. The voters in these houses have traditionally been supporters of the former assemblyman, Darryl Towns. Towns's sister Deidra is one of two other candidates Espinal faces in the fight to be the first new representative from the district in 18 years.
"We're talking about dealing with three separate factions who think they have a mastery of the district," Olmeda says as he takes a right on Bushwick Avenue. Olmeda should know: He worked with Darryl Towns for 15 years before splitting with the family over the unwillingness of Congressman, and dad to Darryl, Ed Towns to step aside so his son could get a shot at his seat.
Olmeda doesn't think Deidra Towns resonates with people in the district the way her brother, who left to be Governor Andrew Cuomo's head of housing, did. He sees her campaign as a weak attempt by Towns Senior to retain his power base. "This is about Ed Towns," Olmeda says. "And about a dynasty from a dinosaur."
Oldmeda approaches the elevated J/M/Z tracks, navigates a tight left turn around the support beams and talks about the other candidate in the race, Jesus Gonzalez, who is running with the Working Families Party's support. Olmeda casts Gonzalez, a community organizer with the local social justice group Make the Road by Walking, as a young and enthusiastic political agitator who hasn't grasped the political battle he's being pushed to fight.
"I think it's more about the people around the kid than the kid himself," Olmeda says about Gonzalez's campaign. From Olmeda's perspective, Gonzalez is the latest candidate progressives and activists have run in the neighborhood in an effort to defeat the local party boss and head of the Brooklyn Democratic Party, Assemblyman Vito Lopez. Often described pejoratively as the machine, Lopez has drawn the ire of reformist, progressive Democratic groups such as Central Brooklyn Independent Democrats and the New Kings Democrats, as well as the Working Families Party. He is characterized by those opposed to him as crooked, antidemocratic, and guilty of political cronyism at its worst.
All that's fine with Olmeda, who says he's a dues-paying member of New Kings Democrats. But, he says, these predominately outside-the-district reformers are more interested in battling Lopez--"WFP wants to break into Northeast Brooklyn," he says--than anything else. "Me, personally, I don't think that's a bad thing." Isn't his candidate Vito's chosen guy? "Yeah," he says. "But I don't work for Vito."
Espinal, Olmeda explains as he pulls over in front of the Sumner Houses, is politically more mature than Gonzalez. And as the Democratic Party pick for the seat, he already has a major advantage over his two opponents. But that's not the main reason he's supporting Espinal. Given the demographic makeup of the district, he wants to see someone in the Assembly that more closely resembles it.
"For the last 18 years there should have been a Latino representing this community," he says. "And now I definitely want to be at the forefront of that."
The shift in demographics is one of the reasons Espinal is at the Sumner Houses. These houses had historically been majority African-American--and a solid base of support for the Towns family. That has changed to a heavily Latino population.
Olmeda is calling his contact in the buildings to meet up. Espinal, wearing a purple patterned button down and slacks, hands out literature to passersby, jumping from English to Spanish as the situation warrants. He greets Charles, who has lived in the Sumner Houses his whole life.
"These houses suck. It takes three years to get a door fixed," Charles says. Olmeda tells Espinal's cousin, Hugo, takes down his name and contact info, promising to look into it when the candidate becomes the elected official. It's a seamless move from campaign to constituent service for someone as practiced as Olmeda, and something Olmeda seems to be reminding Espinal to do often, in tone more than actual direction: make the leap, move beyond the campaign, be the person in office now.
The contact, Barbara Medina, catches up to the candidate's entourage on the street. She's wearing pumps and a no-nonsense business outfit--grey skirt, grey jacket, greyer blouse--and carrying five bags full of fat manila envelopes with Espinal's literature taped to the top. Each envelope is filled with school supplies. Espinal's going to give them out to the households with children, to show his concern for the families and education.
Medina is a powerhouse political operative. She's worked for a number of local elected officials, was a major player in the push for "Leandra's Law," is from the neighborhood, and knows every single person she sees. She knows Espinal from their days working for councilmembers in City Hall. His commitment, hard work, and ability to handle the stresses of the political world convinced her to come on board.
"We're going top to bottom," Olmeda says as the group enters the first house. Well, almost the top: Medina's mother lives on the top floor. The door knocking begins on the sixth floor. Many of the doors are covered in Catholic iconographic stickers--the Virgin Mother, etc.--in Spanish. Espinal wraps the door knockers, flipping between languages depending on the person who answers the door. It's the same spiel each time:
"Hi, I'm Rafael Espinal, the Democratic candidate for State Assembly. I grew up in the neighborhood, was educated in the neighborhood--I was actually born in Woodhull. This is the first time in 18 years we've had a choice, and I want to make sure our community is represented in Albany. I hope I can count on your support on September 13."
He hands them his literature. If they answered the door, they take it. Sometimes Medina has to knock and call out to the person behind the door, "It's me, Barbara from upstairs, your 7A neighbor." If she knows they have kids--or someone in their family has kids--she tells Espinal to give them the school supplies. She knows each household's story. This woman, Amanda, has a one-year-old and a seven-year-old. That woman works with the commissioner at the Administration for Children's Services. Someone else works late, won't be home until after 8 pm. Another person's entire family are crossing guards at local schools. That woman is a voter, she's just...
Once Espinal's knocked on every door in the building and at least made sure there's a piece of literature under the door, it's on to the next building, the next set of voters. Outside he talks about some of the issues in the race: rising rent concerns, youth violence, and poorly maintained streets, and subways. He also vents his frustration over being attacked because of the support he's received from the party establishment and, in particular, Lopez.
"Even though people say I'm backed by the machine, I'm a grassroots kid," he says. "I've never seen myself that way. I see myself as a young man from the neighborhood, who loves his neighborhood and is trying to do good for his neighborhood.
"I was born in the district like I was telling everyone else--raised here, educated here. I've been working really hard at my job at the city councilman's office, and when the opportunity came up I asked him for his support. It's not something that I was molded to be; it's something I'm doing out of my heart, because I care about the community."
After Espinal, Medina and the others have moved on to the next housing complex, Olmeda says he sees this race as Espinal's to lose. He says he's a great kid who listens to criticism and absorbs what he's told. Olmeda has warned him: not everyone is going to like him, and, right now, he's wearing a target on his back because of the support he received. But that just comes with the territory.
"That's politics in this community," Olmeda says. "It can be very vicious at times."