Councilman Jumaane Williams: This is about police accountability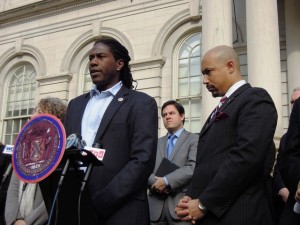 Councilman Jumaane Williams and Public Advocate aide Kirsten John Foy have that hesitancy in their voices that suggests they're not entirely pleased. There's definitely a "but" coming.
Yes, Williams said, he and Foy were both pleased that the police department had disciplined officers after a Labor Day weekend incident that saw Williams and Foy arrested. Yes, they were gratified the internal investigation vindicated their claims officers used excessive force—at one point Foy is seen in video of the incident being tossed to the ground—and that a supervising officer was also disciplined for not providing adequate supervision.
But.
"If it was not Kirsten and I, would the same thing have occurred," Williams asked a wall of reporters on the steps of City Hall this afternoon. "We want to make sure this is connected to the broader police accountability movement. Just because there was some justice for us doesn't mean that there is justice within the police accountability movement."
If you're Police Commissioner Ray Kelly, you have to be wondering when the storm waters are going to recede. It has been a terrible year for the NYPD. From cops being busted for everything from rape to gun smuggling, to major policy blowback over the surveillance of Muslim communities and stop-and-frisk, it does not feel like a day's gone by without bad press for the NYPD.
In a sense today's press conference probably made today feel like just another day in a long line of bad days. But the issue of the department's stop-and-frisk is wrapped up in internal city politics more than maybe any other issue.
Mayor Michael Bloomberg, as has been pointed out, is straddling a precarious line. One the one hand, he's decided in the last two years of a 12-year reign that focusing on the disproportionate issues facing young black and Latino males is worth doing. But he's also helping, through policies like stop-and-frisk, to arrest a record number of them.
Today's press conference puts the ball back in his court. Williams said he and Foy will be sending a letter to the mayor, asking him to sit down with them and some young men of color who have felt the direct effects of the stop-and-frisk policy.
In the end, stop-and-frisk is a Michael Bloomberg policy, but it's also one of the potential issues of the 2013 race to replace him. Some of the potential candidates, like Public Advocate Bill de Blasio and Borough President Scott Stringer, have been active in their opposition to the policy.
The issue becomes stickier with Council Speaker Christine Quinn. She, too, has been up front in her opposition to the policy. But she's also grown—at least in perception—close to the mayor. So far, nothing concrete has come out of the city council rebuking the Mayor's policy. If that remains the case in 2013, what will that mean for the person who controls the council's legislative agenda?
More than anything, today was a reminder that this issue is not going away. At least for the next two years, it will be Mayor Michael Bloomberg's administration—and the police department he oversees—that will be dealing with it. Even if that means not dealing with it all.
"There's been no question that we have been calling on the Mayor to engage these communities full-force," Foy said. "And there's been no question that they've been dead silent."