Cuomo Ready to Step in With Teacher Evaluation Plan
By WNYC's Yasmeen Khan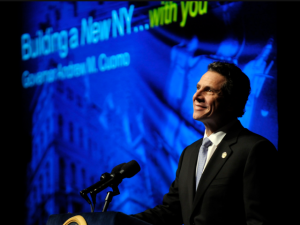 Courtesy of the Governor's office
Governor Cuomo says he's working on his own version of an evaluation system for teachers and principals in the event that the state and its largest teachers' union cannot work out a deal by Thursday, the deadline for submitting amendments to his budget proposal. He said he would impose his own evaluation plan in an amendment to the budget, which ties state aid to schools to the "implementation of an enhanced teacher evaluation process."
Cuomo spoke about the idea to Susan Arbetter on WCNY's program, "The Capitol Pressroom." He did not give specifics about what his plan would look like, but he did say it would include ideas outlined in a letter to the Board of Regents in May 2011.
The governor also said he would make an effort to streamline the existing law outlining teacher evaluations.
"It's a very complicated law right now--what's done by the local districts, what's done by the state education department, how many different criteria are there for evaluation," he said.
The governor does support tying student performance on standardized tests to teacher evaluations. That issue has been a sticking point in negotiations between the New York State United Teachers union and the education department.
More than 1,300 principals across New York have also signed a letter objecting to the use of student test scores in the new evaluation system, saying regulations developed by the state give undue weight to student performance on those tests.
New York state also agreed to implement a new teacher evaluation system in order to receive $700 million in federal Race to the Top funds.