The Occupation takes Albany
New York City wasn't the only site of Occupy protests yesterday. Karen DeWitt, New York Public Radio's Capitol Bureau Chief, reports on the events in Albany.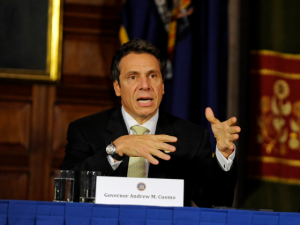 Courtesy of the Governor's office.
Hundreds of Occupy movement members from around the state descended on the State Capitol Thursday, chanting and voicing their disagreement with Governor Andrew Cuomo's economic policies.
The protesters yesterday held a rally in Lafayette Park, across the street from the Capitol, before made their way inside the Capitol building, chanting "we are the 99 percent." They ended up in Cuomo's reception area known as the "war room." The protesters vehemently disagree with a number of Cuomo positions, including extending a state tax on upper income earners that expires at the end of the year. Occupier Rosemary Rivera says Cuomo is paying too much attention to the needs of the rich, and not the rest.
"We need to educate our children, we need to maintain our public structures, we need to save our bridges," she shouted.
"We need to put our people back to work," she said, to cheers.
For the first time, the protesters also set their sights on the Republican-controlled State Senate. Rivera, in the call and response ritual known by Occupiers as "mike check", says Senators are too beholden to the state's Business lobby.
The state police presence was heavy, with dozens of extra officers stationed at key posts, including outside the governor's door.
No one was detained, but the governor has said state police will continue to arrest those who try to remain on state land overnight.
Albany County District Attorney David Soares has refused to prosecute anyone arrested by the state police. He says as long as the demonstrations are peaceful, he won't interfere and would rather use his time to go after more serious crimes.
Soares says his approach has been working so far. Up until Cuomo began ordering the arrests, the demonstrators spend three weeks camping peacefully on city land. He says Albany has been a contrast to other cities, like Oakland, California, where an aggressive police and prosecutorial crackdown has led to a backlash.
"Watching Oakland, if the decision makers had an opportunity to do it all over again they would not have done what they in fact did," said Soares.
There have been calls for Cuomo to appoint a special prosecutor to supersede Soares authority, and the governor has not ruled that out. The DA says he won't argue if that occurs.
"That's certainly within the prerogative of the executive, and we would respect that decision," said Soares, but he says he thinks local authorities know best how to handle the demonstrators.
Governor Cuomo was in Albany but did not engage the protesters.