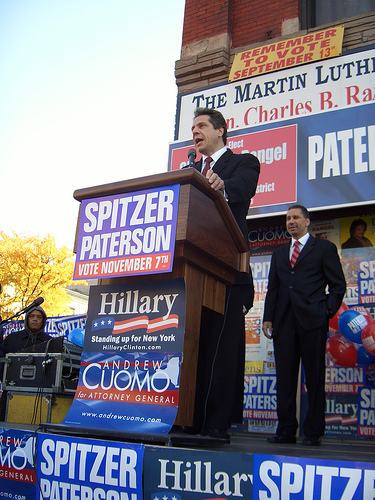 Azi Paybarah / WNYC
Obama's campaign spin-off, Organizing for America, is out with an email to supporters rallying support for Andrew Cuomo's gubernatorial campaign.
Haberman notes this makes Cuomo "part of the national party's movement."
Cuomo is, oddly, declining to comment on the email.
The only thing I'll add is that the email doesn't mention the word Democrat.  Instead, the email characterizes the opponents they're trying to topple as "lobbyists and special interest" and "lawmakers" who "can't break free from the status quo."
The OFA description underscores Cuomo anti-Albany message. "I think we have to have less focus on the party labels and more focus on the people,"Cuomo told reporters last Friday.
So, for this one, the OFA is following Cuomo's script.
UPDATE: After seeing reports about their lack of comment, Cuomo's campaign sent over a statement.