BP Stringer wants answers from Bloomberg over Goldsmith resignation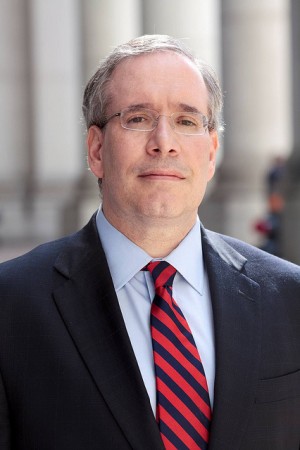 Courtsey of the borough president's Flickr account.
The fallout has started surrounding today's revelation that a former deputy mayor under Bloomberg resigned after being arrested for domestic violence. And at the front of his media surf board is Manhattan Borough President Scott Stringer.
Stringer sent out a statement late this morning saying he was "deeply troubled by the news" that former Deputy Mayor for Operations Stephen Goldsmith had spent two nights in a Washington, DC jail after being arrested after a domestic dispute with his wife. Goldsmith resigned abruptly on August 4. The New York Post reported today that on July 30, Goldsmith had been arrested in Washington, DC, after his wife called the police. The incident, the Post said, was what led to Goldsmith's resignation--not his poor handling of the monster snow storm back in January, as had been the suspicion.
Speaking to the press earlier, Borough President Stringer called on the mayor to give an account of what happened, what the decision making process behind Goldsmith's resignation was, and why the incident wasn't disclosed to the public.
"We have a right to know the circumstances relating to his resignation," Stringer said. "If the resignation was a result of this arrest, then New Yorkers have the right to know that a high-ranking deputy mayor, in charge of oversight of the NYPD, was arrested under some very difficult circumstances."
Stringer was careful not to directly criticize the mayor's handling of the incident, saying that that his office wasn't "picking a fight with the mayor."
"I dont want to characterize the circumstances surrounding the mayor's thinking until i know what it was," Stringer said. "And then we'll go from there."
Marc LaVorgna, a spokesperson with the mayor's office, released the following statement: "We have nothing to add to Mrs. Goldsmith's account of the incident, but it was clear to the Mayor and Mr. Goldsmith that he could no longer serve at City Hall, regardless of his guilt or innocence."