Lazio bows out, criticizes 'flawed' candidates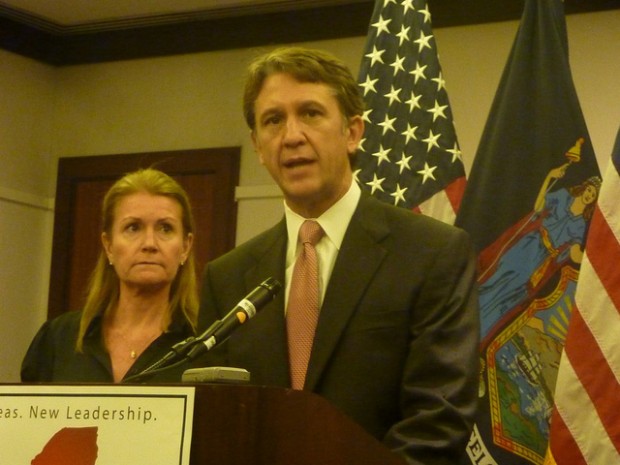 Former Rep. Rick Lazio said he will not pursue a gubernatorial campaign along the conservative party line, but stopped short of endorsing the man who beat him in the Republican primary, seemingly warning of Carl Paladino's "outrageous promises" and lack of policy specifics.

Lazio, appearing in the Sheraton hotel in midtown with his wife, described his "evolutionary" decision to withdraw from the race following the Sept. 14 defeat, saying in the days that followed, he had thought he could put together a "viable" campaign. Ultimately, he said, that was not possible.

"Although I'd like to think I could do what Jim Buckley did forty years ago running on the Conservative Party line, and while my heart beckons me forward, my head tells me that my continued presence on the Conservative line would simply lead to the election of Andrew Cuomo and the continuation of an entrenched political machine," said Lazio, referring to the leading Democratic gubernatorial candidate. "I do not want to be responsible for that."

In explaining his decision to remain neutral, Paladino said both major party candidates are "flawed...but this is the choice that we have."

The entirety of Lazio's remarks seemed to be aimed at Paladino, warning voters not to let sweeping rhetoric and raging emotions guide the decisions in November.

"Neither raw emotions, nor empty slogans and false promises are the solutions" Lazio said. "I understand that people are angry. I get the whole primal scream thing." He added, "In my view, this anger will not go away until jobs are restored and until decent ethical leaders return to our state capital."

Lazio's harsh, if indirect shots at Paladino, prompted one reporter to ask what Paladino had to do to get Lazio's endorsement, go to anger management class?

Lazio laughed.

Even before the press conference in the basement of the hotel ended, reports were out that the Conservative Party line would replace Lazio's name with Palaidno's.