Paterson announces WOR radio gig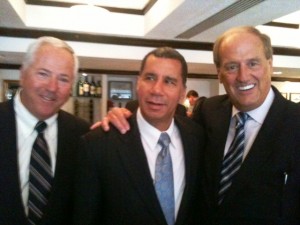 Alec Hamilton / WNYC
By Alec Hamilton
John Gambling, the third in the Gambling family line of WOR morning hosts, introduced former governor David Paterson at a press conference today to announce the governors new role as a host of the afternoon drive show. At Ben Bensons steakhouse in Manhattan, the governor said he grew up listening to the radio.
The governor said because he never learned Braille, he has depended heavily through his life on radio for information.
"My information always came from the radio, so I've always had a special fondness for radio stations, for talk radio, for radio hosts, so to become one of them at this stage is a big thrill in my life," he said.
The governor said his first guest will be Eliot Spitzer.
"When I told him I had this show, he said its so great to see you could get a job that I didnt give you," said Paterson.
Other guests scheduled for the first show on Tuesday include former Police Commissioner Bill Bratton on Scotland Yard, a debate between 9th Congressional District candidates David Weprin and Bob Turner, and possibly Rep. Charlie Rangel. Paterson's father, Basil Paterson, and Manhattan Borough President Scott Stringer, a close friend of the former governor, were at the announcement earlier today.