Turner rallies with GOP Prez hopeful Perry in Manhattan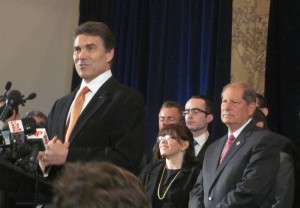 Anna Sale / WNYC
It's a Free Country's Anna Sale caught up with the newest New York congressman earlier today. Congressman Bob Turner was stumping with GOP presidential hopefully Rick Perry, who's in town doing some fundraising. Both Perry and Turner took the Obama administration to task over (what else?) Israel, as the UN gears up for the issue of Palestinian statehood:
The vote on Palestinian statehood is scheduled for Friday at the United Nations. It comes a week after Republican Bob Turner won a special election to fill Anthony Weiner's vacant seat in New York's heavily Jewish and heavily Democratic Ninth Congressional district. Rep. Turner stood with Perry, who called the new Congressman "a leading voice" on the Israeli Palestinian issue.

Rep. Turner picked up on that, explicitly warning that his victory in New York shows President Obama's position on Israel will make him vulnerable at the polls.

"The message that the voters sent is that this administration has been vacillating and at times even hostile to Israel, and it is not accepted and it is not acceptable," Bob Turner said. "And if it continues there will be a very high price to pay."
Check out the full post over at It's a Free Country.