Freshman Congressman Bob Turner announces bid for US Senate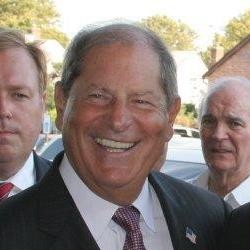 This first hints of this were reported by Politico's Maggie Haberman and the confirmation by Celeste Katz of the Daily News, and it's now official: Queens-based Republican Congressman Bob Turner is tossing his hat into the ring to challenge US Senator Kirsten Gillibrand in November.
The full statement is below. Turner now joins three other candidates: Rye Town Supervisor Joe Carvin, Manhattan attorney Wendy Long, and Nassau County Comptroller George Maragos.
I will travel to the Republican State Convention in Rochester later this week and humbly ask for the Republican nomination for the United States Senate. I will respectfully ask for the Conservative nomination a few days later at that Party's convention. I have made my intentions known to the other Republican candidates in this race.

I ran for the House six months ago as a private citizen fed up with what is happening in Washington.  I could not sit and watch career politicians sink my nation deeper into economic crisis.  Brooklyn and Queens voters, of all political parties, graciously responded by sending me to Congress. It now appears that their district has been eliminated.

There is serious work to be done to get this economy back on track, and I will not walk away from that work now. I will run for the Senate, and I will run to win.
This post has been updated from its original.