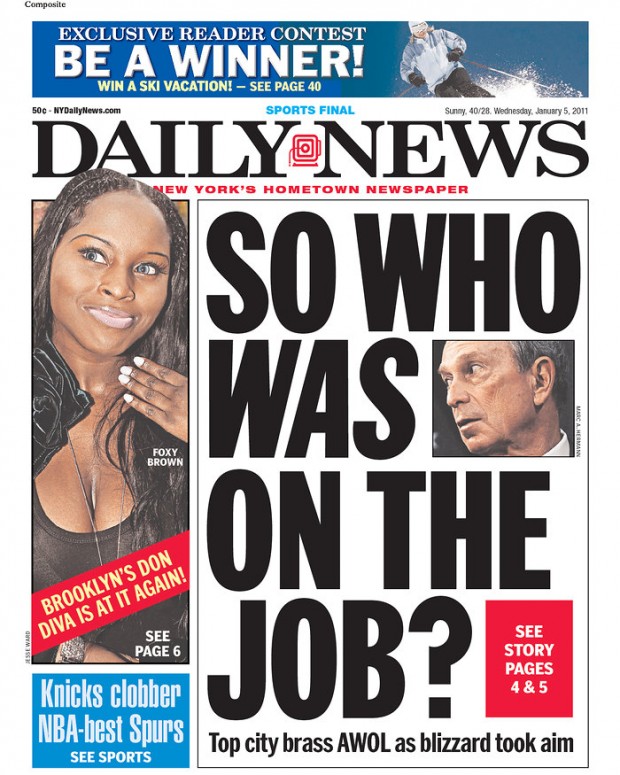 The Daily News isn't letting go of the question about Mayor Bloomberg's whereabouts on the day of the snow storm, and who specifically was in the city calling the shots.
At a press conference yesterday in Albany, where he attended the governor's state of the state speech, Bloomberg was asked where he was on Christmas day.
"I started out – if you were there you would have seen me at St. Patrick's, at midnight mass," Bloomberg said. "It's where all Jewish boys go."
He added, "And then the next day was dealing with the snow storm and you saw me at a press conference." Bloomberg quickly added, "Anything else? If not, we got to go," and ended the press conference.
Today's Daily News editorial hits Bloomberg for his non-answer:
What kind of contact - phone, email, text message, teleconference - was there between the mayor and aides while he was ... elsewhere? How constant was it? And where exactly was ... elsewhere? The spokesman declined to say.

And that's not good enough.

What's known about Bloomberg's whereabouts and actions is that he attended midnight Mass late Friday and was next seen in the city more than 36 hours later, at 2:45 p.m. on the day after Christmas.

In between, the National Weather Service upgraded its warning to a blizzard level, the administration failed to declare a snow emergency and the Sanitation Department mobilized and embarked on its failed plowing effort.

Bloomberg promised a full accounting of what went wrong, but there are grounds for worry on that score. Amazingly, he has delegated Goldsmith, one of the architects of the fiasco, to oversee the report's preparation.