Cuomo receives record high job approval, but voters think Aqueduct plan stinks: Siena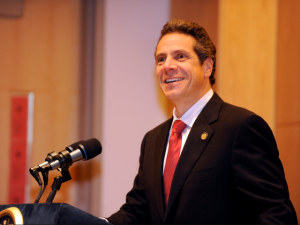 Courtesy of the Governor's office.
Just when you thought Governor Andrew Cuomo couldn't get any more popular, a new Siena Research Institute polls shows he's done just that.
"At 73-20 percent, Cuomo's favorability rating is the best it has been since April, and his 62-37 percent job performance rating is by far the best it"s ever been," said Siena pollster Steven Greenberg in a statement.
To go along with the love affair voters appear to have with Cuomo, he's also managed to get a majority of New Yorkers--albeit a slim one at 51 percent--to believe Albany is considerably less dysfunctional in his first year in office.
Among the Governor's legislative agenda items from his State of the State speech earlier this month, the creation of an education reform commission received the most support with 82 percent of those polled saying they support the plan.
Only 53 percent of voters said they support the Vegas-style gambling legalization the Governor is in favor of having in New York.
The Governor's proposal to build the country's largest convention center adjacent to the Aqueduct racino in Queens received the most opposition from voters, with 57 percent saying the oppose the plan.
"At this point there is strong opposition to the Governor"s proposal for a new convention center adjacent to the Aqueduct racetrack and racino," Greenberg said. "New York City voters are barely supportive, suburbanites are opposed and upstaters are strongly opposed. Clearly, the Governor has his work cut out for him to convince voters on that proposal."
The poll was taken between January 8 and 12, and surveyed 805 New York State Registered Voters. It has a plus or minus of 3.5 percent.