What does a Turner win mean for the future of NY-9?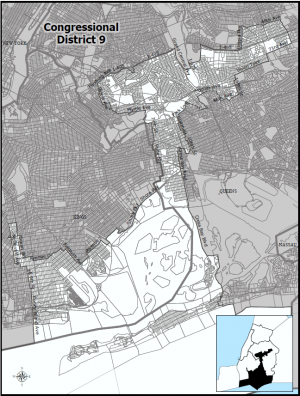 Even before Bob Turner's upset victory last night, a lot was made about the possibility that the 9th Congressional District might cease to exist soon.
But why, exactly? On a practical level, New York State is going to lose representation in Congress. We grew slower in comparison to other parts of the country over the last ten years, according to the US Census. Since the set number of seats in the House of Representatives are divvied up proportionally among the states based on population, New York is going to get two less seats come 2012.
This process happens every ten years, and in the past there has been an agreement between the Democrats and Republicans in the state legislature, which is responsible for drawing the political lines for all New York political districts. Since the Democrats control the Assembly, and the Republicans control the Senate, when they get together to carve up the state, each side would loses a seat. As the Democrats are strong downstate, they'd likely sacrifice a seat here and vice versa for the Republicans upstate.
It's an interesting arrangement, as the Federal elected representatives have to lobby their colleagues in the state legislature. Generally speaking, seniority and political influence rule the process, with junior and weaker members more likely to be redistricted out of a job.
"These are political decisions and the lines are drawn in regards to political balance," said Gerald Benjamin, a political science professor at SUNY New Paltz. "You're not dealing with math here."
This brings us to NY-9. With Weiner's resignation, whoever won would be the House of Representative's newest, most junior member going into 2012, and thus the most likely to be nixed through redistricting. The local Queens congressman Joseph Crowley runs the borough's Democratic Party. He had a direct political interest in choosing someone for the NY-9 race who would not look to compete with him for his job once they lost their own through redistricting.
Then Bob Turner beat Crowley's man, Assemblyman David Weprin, in the special election to fill the seat. This, on the surface, throws a bit of a wrench in the Democrats' plans for redistricting. Losing NY-9 with a Democrat in it meant Republicans would likely choose someone upstate to sacrifice.
But now Turner is in that seat. Remember: the Queens Republican party didn't initially want Bob Turner to run again. It was only because the Conservative Party vowed to keep him on their line no matter what. This means Turner isn't necessarily someone the Republicans are going to fight for when it comes to redistricting.
So if Turner ceases to have a job in 15 months a Democrat upstate will likely have to fall on their sword. The people that have been mentioned, for various reasons, are Bill Owens, Kathy Hocul and Maurice Hinchey. But, in the end, it doesn't really matter to the man who picked the losing candidate in the 9th Congressional District race: Congressman Joseph Crowley.
Crowley is mostly interested in bringing his entire district into Queens. He can gobble up parts of NY-9 whether it's Turner or Weprin who lost their job. Turner's win poses a bit of a problem for Democrats upstate, but it makes nary a difference to Crowley.
There is one piece of this story that bears mentioning. Manhattan, Brooklyn and the Bronx are all under Federal Voting Rights Act protection. That means any congressional district that is located in those boroughs—as the 9th district is—will be scrutinized to make sure minority populations aren't being disenfranchised. The district was once solidly white; that has ceased to be the case.
According to Susan Lerner with Common Cause, Latino and Asian populations have each grown by 30 percent over the last decade. In particular, the huge growth of the Asian community in Easter Queens presents a challenge for the Justice Department reviewing any congressional change, and makes a case for potentially having the first majority-Asian district created in New York City.
But to do that, the redistricting process would have to be more about what's best for the voters, and less about the politicians doing the redistricting.
"What we see all too frequently is the desire of the politicians, who are drawing the lines for their own self-interest, is in competition with the needs and the desires and the rights of the community and the voters," Lerner said. "That's a bad way to proceed."