Cuomo, Skelos and Silver announce agreement on NY state budget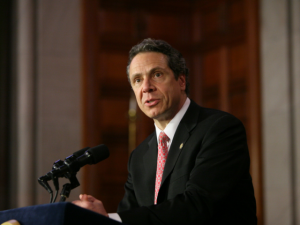 Courtesy of the Governor's office
Governor Andrew Cuomo, Assembly Speaker Sheldon Silver and Senate Majority Leader Dean Skelos announced Tuesday that a final agreement has been reached on this year's $133 billion budget. It marks the second year in a row the state's budget has come in balanced and before the deadline.
"For the second straight year, New York State has worked and created a balanced budget based on fiscal responsibility, job creation, government efficiency, and the premise that we must invest in our communities," Cuomo said in a statement announcing the final agreement.
The final agreement comes a week after Cuomo and the legislative leaders agreed to a number of the Governor's policy items, including the creation of a new DNA databank, an agreement on teacher evaluations and a scaled back version of the pension reform he outlined in his budget proposal. The deal also saw new state legislative districts, drawn by the legislature, passed alongside an agreement to push forward a constitutional amendment to change the decennial redistricting process beginning in 2021.
This year's budget closed the remaining $2.1 billion budget gap left over after last year's tax restructuring, which left higher income earners paying more but helped reign in an initial gap of $3.5 billion. The final budget limits spending growth to two percent, while investing in infrastructure job programs, restoring education aid, and eliminating or consolidating dozens of government agencies.
"This agreement puts us in a position to deliver another early budget that controls spending and taxes, and builds on the bipartisan successes we achieved last year," Skelos said in the statement.
"This budget includes much needed increases in education spending, including an increase in base aid for community colleges for the first time in five years, and vital restorations to programs that protect our state's neediest citizens," said Silver in the statement.
Some of the budget highlights include:
$1.2 billion in new spending to "accelerate repair, replacement and improvement of deficient roads and bridge"
$770 million in direct funding to the MTA from the state
The creation of a new New  York State Gaming Commission, which merges the Division of Lottery and the Racing and Wagering Board, in anticipation of the possible legalization of gambling in New York State
$805 million of school aid restored "with most of the allocated increase targeted to high needs school districts"
"[T]he elimination of 25 boards and commissions that are no longer active or whose missions have been completed or become redundant"
The state takeover of the local share of Medicaid costs and the beginning of a phased takeover of local government Medicaid expenses
Legislation that will allow New York City to take over care for lower-risk youth from the city in the juvenile justice system
$9 million for mortgage foreclosure counseling
The establishment of the Office of New Americans, which will "support efforts to assist legal permanent residents to better participate in the state's economy and civic life"
"In general this is another Andrew Cuomo budget," said Bob Ward of the Rockefeller Institute of Government at the University of Albany. "In his first year the Governor established himself as being in command. Coming into this year he showed the ability to remain in command by doing some preemptive negotiation with the other side, and that was the billion-and-a-half dollar tax increase enacted in December. Between that [and] the redistricting agreement that reflected primarily the legislature's thinking rather than the Governor's, the Governor [has shown he] will do some strategic repositioning if you will in order to maintain his position of being generally the one in charge."
Elected officials, advocate groups and others weigh in on the budget agreement:
Senate Minority Leader John Sampson:
After unprecedented cuts were made to critical services and programs last year we are still faced with hard choices as many New Yorkers struggle.

We must ensure that the budget deals with a variety of crucial issues including affordable health care, help for small businesses, real mandate relief for our local governments, fair funding for our schools, equal educational opportunity for all students, affordable housing, help for our senior community,  protection of environment and common sense public safety programs.
New York State Comptroller Thomas DiNapoli:
It is welcome news that the Governor and Legislature were able to reach an on-time budget agreement. The ongoing challenge for New York has been to align recurring revenue with spending without the use of one-shots and gimmicks.

Upon enactment, my office will begin its comprehensive review of the budget and will issue a report soon on whether that goal was achieved.
Mayor Michael Bloomberg:
Finally, an almost unprecedented accomplishment: it appears that the budget includes no new unfunded mandates for New York City.  We are hopeful this commitment to fiscal responsibility continues throughout the rest of the legislative session.

Governor Cuomo has demonstrated bold leadership throughout this legislative session and budget process, both in setting forth meaningful public policy solutions to some of our toughest problems and in bringing people together to turn his proposals into reality.
Billy Easton, Executive Director of the Alliance for Quality Education:
The Governor proposed to divert $250 million out of classrooms and into experimental competitive grants, the Legislature has responded to the demand of parents and students across the state by redirecting $200 million of these funds back into our classrooms and schools. It is a welcome step that will protect vital programs in our schools, but this year's budget is inadequate in comparison to yet another round of classroom cuts that are expected in local schools as a result of the policies in Albany.
Kathryn Wylde, President & CEO of the Partnership for New York City:
Timely agreement on a budget that generally holds the line on spending is very reassuring to the business community. Governor Cuomo and legislative leaders continue to make tough choices that promise to keep the state on track for economic growth and job creation.