Democrats hit Turner on entitlements in NY Post article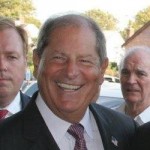 Courtesy of the Turner campaign
The Democrat's national congressional committee is hitting Republican Bob Turner on his comments to the the New York Post editorial board today. As we reported earlier this week, Turner's position on Federal spending and entitlement programs were at odds with one another. But, according to the Post, Turner is indicating cutting a third of the Federal budget could include future changes to Social Security and Medicare:
Turner pledged to push the federal government to rein in the deficit even if that means touching the "third rail" of politics -- cutting spending on entitlement programs such as Medicare and Social Security that have strong and active political constituencies.

Turner said he would protect people 55 and older by exempting them from an overhaul of the two federal entitlement programs.

Asked if the eligibility age should be raised for people under 55, Turner said, "That's one of the easy ones."

He said an increase in Medicare co-payments also has to be considered.
DCCC is claiming this shows Turner is flip-flopping on this issue.
"Bob Turner is just admitting what we already knew – his plan is to cut Medicare and Social Security, forcing seniors to pay more for their health care while protecting tax breaks for millionaires and billionaires," said Josh Schwerin, a DCCC spokesperson said in a statement. "Earlier this week, Bob Turner left Ground Zero volunteers out in the cold, and now he wants to do the same to seniors. New Yorkers simply can't afford Bob Turner's extremist Tea Party policies."