Day 1: Gov Cuomo opens the capitol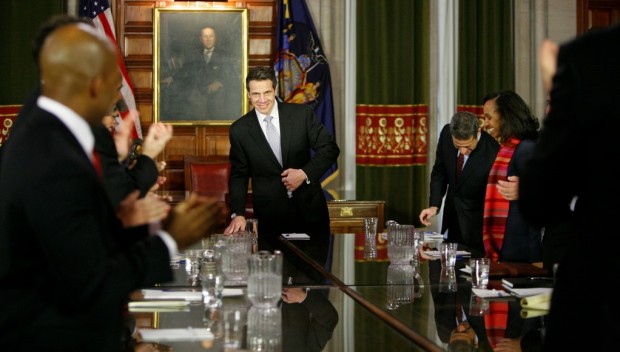 Governor Andrew Cuomo is removing a series of concrete barriers surrounding the state capitol which were erected shortly after the September 11th terrorist attacks. The move by Cuomo comes on his first day as governor, and is seen as a sign of the new governor's push to lure the public's focus back onto the capital, which has been derided for its legislative dysfunction and a series of criminal probes.
Cuomo is breaking with tradition by having a modest swearing-in ceremony today with only staff, family and the media in attendance--and no parties. He is casting a wider net for his first State of the State speech this Wednesday, where the public for the first time will be offered free tickets.
The removal of the barriers will be announced later today, according to a press aide to Governor Cuomo, who briefed reporters after Cuomo held a 35-minute long meeting with senior staff. The meeting was held on the second floor of the capitol.
"The governor spoke about opening up the government back to the people," said communication deputy director Josh Vlasto. "That is what today is all about."
He added, "the governor stressed an absolute commitment to integrity in government and openness."
Cuomo was officially sworn in as the state's 56th governor last night. He'll have a ceremonial swearing in this afternoon.
The barriers were installed by Governor George Pataki, a Republican, after the attacks on New York City and Washington in 2001. Pataki and his successor, Eliot Spitzer, a Democrat who resigned amid a sex scandal in 2008, were not invited to today's swearing-in ceremony. Cuomo's immediate predecessor, Governor David Paterson, is expected to attend today's events.