Stringer in 2013...for Public Advocate?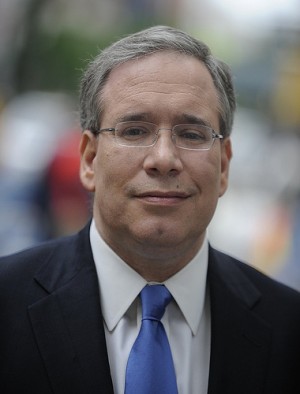 Manhattan Borough President Scott Stringer's call to let the mayor's office dole out funds to city councilmembers and borough presidents is getting a cold reception to the north. The Bronx BP Ruben Diaz, Jr. is touting the usage of $13 million in discretionary funds in the Bronx today. In particular, Diaz's office said the idea of giving the mayor control over these funds was a non-starter.
"If there's one thing that's been crystal clear, [it's that] the mayor doesn't know what the Bronx needs," said Diaz's spokesperson John DeSio. The mayor and the Bronx borough presidentwent toe-to-toe over the city's plans to develop the Kingsbridge Armory back in 2010, and relations have remained somewhat icy. Diaz and his labor supporters demanded a mandatory "living" wage of $11.50 per hour for workers in the proposed mall be part of an agreement with developers. Both the mayor's office and the developers balked at the idea and the deal ultimately fell through over the wage demand--a significant development defeat for Bloomberg, and a testament to the power of the city's labor unions.
Diaz is pushing back on Stringer's report, which increasingly looks like a push to burnish the potential mayoral candidate's reformer credentials, as well as said a shot across the bow of fellow Manhattanite and mayoral competitor City Council Speaker Christine Quinn.
Then again, maybe not. There's another potential scenario developing. Quinn ($4.5 million raised) and Stringer ($1.6 million) are now the financial front runners in the 2013 cycle, with the public advocate, Bill De Blasio ($1 million), in fourth. [Note Update: these are the 2013 cycle totals.] The field is already crowded, with both the city's current and previous comptrollers likely contenders. That's not the only crowded field: take a look at our map of where Stringer and Quinn are raising funds (see below). Manhattan may only have room for one mayoral candidate.
The theory is that Stringer will continue to build on his reputation as a reformer--much as the current public advocate, Bill De Blasio, did in his run-up to the position. Despite his fundraising position, De Blasio is in many ways better positioned in a run against Quinn for the nomination. He'll becoming from a citywide office already. His base of support is in labor and the Working Families Party, whereas Quinn is being embraced by the Bloombergian business crowd as their best hope. Additionally, while Manhattan is also giving to De Blasio, his financial and political base is in Brooklyn.
The same argument can be made for Comptroller Liu, who has out-fundraised De Blasio, shares his labor support, and has his own non-Manhattan base in Queens.
With no heir-apparent to De Blasio should he make a sustained push for mayor, the door is open for Stringer. He could decide that, instead of battling over the prized mayoral meat with Quinn, he'd be happy to have his own, with the cash advantage to discourage almost any competition. Plus, with term limits being what they are, it would mean, should they both win and be reelected to the maximum number of terms, Quinn would be out as mayor just in time for Stringer to run in 2025 2021 (still going on term limit extension time--thanks for the tip Dan).