MTA chair and CEO Jay Walder resigns (corrected)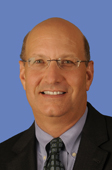 The head of the MTA, Jay Walder, has resigned. Brought in under Governor David Paterson, Walder has served only two of the six years of his appointment. He has reportedly taken a new position with Hong Kong's public transportation system.
The head of the MTA serves at the will of the governor. The head of the MTA is appointed to a six-year term. Walder, who only served two of those years, was generally seen as a highly-effective leader, who could work inside the political world, as well as with transportation advocates. But governor's are often keen to replace even the most effective MTA heads with someone of their choosing. Whether that was the case in this situation remains to be seen. We'll keep you posted.
From Kate Slevin, Tri-State Transportation Campaign Executive Director:
MTA Chairman and CEO Jay Walder has been an effective, innovative leader. He helped restore the agency's credibility and changed the way it does business, finding billions of dollars in savings during his tenure.
From Mayor Michael Bloomberg's office:
Jay Walder is a world-class transportation professional and any city in the world would have been lucky to have him. He set a new course for the MTA during an extremely difficult period when the agency was not given the resources required to meet the City's needs. He expertly shepherded major projects like the 7 line extension and new bus rapid transit lines, and by embracing new technology, he made significant improvements to the customer experience – from gateless tolling on bridges to countdown clocks in subway stations – that the public will appreciate long after his departure...He is the type of person we can't afford to lose, and his departure is a real loss for New York City, the metropolitan region, the state and the country.
From Governor Andrew Cuomo's office:
For nearly two years, Jay Walder has shown true leadership at the helm of the MTA and been a fiscally responsible manager during these difficult financial times. Riders of the MTA are better off today because of Jay's expertise and the reforms he initiated will benefit all for years to come. Jay's departure is a loss for the MTA and for the state, but I thank him for his service and wish him the best in his future endeavors.