Congressman Grimm has his first Dem challenger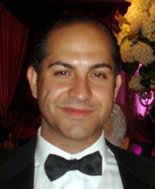 Courtesy of the Borgognone campaign.
Promising, as so many others have, to work to "stop all the bickering, end the partisan gridlock and start passing laws to get people back to work", Staten Island businessman Alex Borgognone announced his candidacy as a Democrat for Congress. The seat is currently held by freshman Republican Congressman Michael Grimm. The 13th Congressional district covers all of Staten Island and parts of southern Brooklyn.
"In the coming months, I look forward to talking with the people of Brooklyn and Staten Island about new ideas for re-starting our economy, and what we need to do to create jobs," Borgognone said in the announcement.  "My opponent ran on a promise of job creation, but that promise has proven to be empty as he's focused on playing Washington politics instead of fighting for our district."
Borgogone is picking up where the last Democratic to run for Congress in Brooklyn--Assemblyman David Weprin--left off in terms of issues. His announcement identified Medicare and Social Security as top priorities.
The race in the 13th has been a wait-and-see game, as Democrats like former Congressman Michael McMahon, who lost his seat to Grimm, Councilman Vincent Gentile of Brooklyn and others being courted by various Democratic elements are holding back. This is no small part because the district, and its voters, are likely to shift during redistricting. Depending on how much more blue or red it appears will determine the viability of a campaign from high-profile candidates like McMahon.
But that doesn't appear to be a concern for Borgognone, a former registered Republican according to the Staten Island Advance.