Despite DCCC's 'no safe seat' claim, NY GOP has (some) hope in 2012 House races
(h/t to Politicker's Colin Campbell for spotting some things in need of fixing.)
New York's congressional maps solidified earlier this week and that meant the prognostication battle over which seats were competitive and how red or blue the congressional delegation would be next year got kicked off.
In the spirit of friendly, informed crystal ball gazing, the Empire reached out to the CUNY Mapping Service at the Center for Urban Research for help number crunching and data visualizing. Thanks to the center's Steve Romalewski and his amazing mapping staff, we've cobbled together a number of different pieces of data to get our best analysis of the coming battle for the US House here in New York. (Want to see where we got our figures from? A link to an spreadsheet with the data is at the end of this post.)
There are two things in particular we wanted to look at. First, which seats, based on the data, are the ones to watch this year. Second, the Democratic Congressional Campaign Committee sent out a memo earlier this week that said "no such thing as a safe Republican seat in New York." We thought it'd be fun to test that statement.
The answer, we found, was that at least three of New York's new 27 districts where Republican have potentially a good shot based on the data--one of which is already held by a Republican--with two others leaning in the Republicans favor.
Overall we identified six districts that may be hotspots in the coming election. Two of them are currently held by Democrats.
The seat likely to stay in the R column is Congressman Richard Hanna who is expected to be on the ballot in NY-22. If you cross reference the enrollment data compiled by the state legislative task force, who were originally drawing the districts, with the lines drawn by the judge, Republican registration in NY-22 is some of the highest in the state at 41.3 percent. And the new district has a higher percentage of Republicans than Hanna's current district. (See how Hanna's district has shifted here.)
If you look at the local votes for congress in the new district from 2008 and 2010, the new district would have voted for a Republican in both years (see the maps below--for info on the methodology click here). And in this district, Obama got 48.5 percent of the overall vote to McCain's 48.6 percent. The DCCC, which only looks at the votes case for the two major party candidates, says Obama wins by a higher margin, 49.9 percent.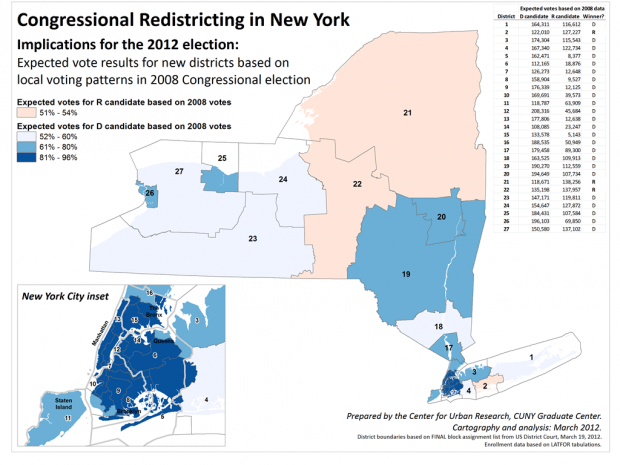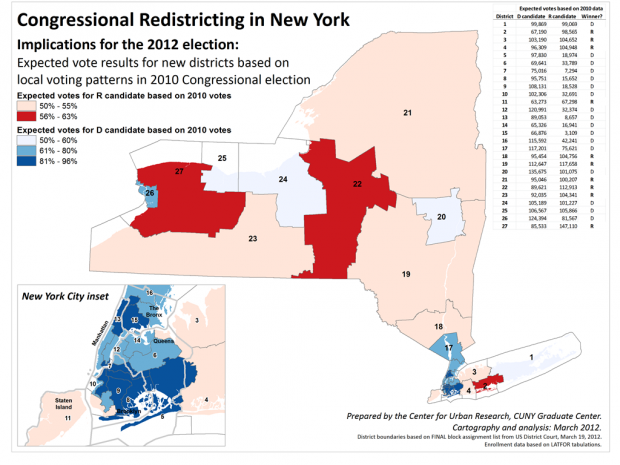 While the National Republican Congressional Committee might be thrilled about Hanna's district, the scenarios for four other Republican congress members in New York aren't as clear cut:
NY-11 – Michael Grimm (R)
Current Republican enrollment: 27.6 percent
New district enrollment: 27.2 percent
New district Democrat enrollment overall went up 1.1 percentage points to 47.9 percent
Then there's the intangibles of allegations leveled against the congressman
NY-18 -- Nan Hayworth (R)
Percentage of Democratic enrollees in the new district increased 1 percentage point while Republicans fell .6 percentage points
New district's enrollments are split pretty evenly: 35.4 Dem, 34.0 Rep
Obama beat McCain narrowly overall, 51.6 to 46.4 percent (DCCC: Obama - 52.7%)
NY-19 -- Chris Gibson (R) -- See how Gibson's district has changed here.
New district boundaries far different than Gibson's current one
New districts enrollees are pretty evenly split: 31.4 Dem, 33.9 Rep
Gibson's current district is 40.5 percent Republican
Obama beats McCain overall, 52.4 to 44.8 percent (DCCC: Obama – 53.9%)
NY-24 -- Ann Marie Buerkle (R)
New district Republicans retain a 1.1 percent edge on Democrats
There are more Republicans, percentage-wise, in the new district than Buerkle's current one
But congressional vote projections show a Democrat winning in the new seat in 2008 and 2010
Obama beat McCain overall, 55.4 to 41.5 (DCCC: Obama - 57.2%)
But Congressional Republicans aren't the only ones who may have concerns this election cycle.
The first is Congressman Bill Owens who is likely to run in the new NY-21. The new district has the highest Republican enrollment percentage in the state at 44.8 percent. That's more than the 42.5 percent in Owens' current district right now. And based on the 2008 and 2010 congressional voting pattern projections, a Republican would have been projected to take the new district in both years. (See how Owens' district has changed here.)
Then there's the seat that's more or less represented by Congresswoman Kathy Hochul (see how it's changed here). Under the new lines, she technically lives in the same district as Congressman Brian Higgins. Were she to run in the new NY-27 out in Western New York, she might not have the easiest of times:
Republicans have an enrollment edge at 40.3 percent, versus 32.9 percent of Democrats
Obama lost to McCain overall, 44.1 to 53.4 percent (DCCC: Obama - 45.3%)
There are a couple other races of note:
NY-02 – Peter King: while popular and well known, his new district is made of almost none of his current seat. Republicans retain a small 2.7 percent enrollment edge, but the overall percentage is done from 40.1 percent in his current seat to 36.6 in the new one.
NY-25 -- Louise Slaughter: while Democrats enjoy a nearly ten-point enrollment advantage, the overall percentage for Slaughter drops from 55.4 percent in her current district to 40.2 percent in the new one.
Both candidates are or could face strong challengers. Nassau County District Attorney Kathleen Rice is considering a run against King, while Monroe County Executive Maggie Brooks has declared she's running against Slaughter.
The biggest issue that will likely affect the outcomes in this year's congressional elections will be the people at the top of the ticket. In a presidential year with an incumbent Democrat on the ballot in a Democratic state, there's reason to believe the results of Election Day in November could look more like the 2008 map than the 2010.
The data compiled by the CUNY Mapping Service at the Center for Urban Research that was used for this article has been compiled in a single spreadsheet. Click here to download it.