The 63rd Senate District: Location details leak, but more questions pop up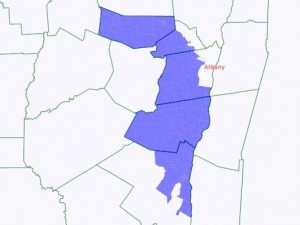 Ever since the rumor that the Senate Republican planned to create a new, 63rd Senate district in in the soon-to-be-released redistricting maps, there have been new rumors flying about where it could be. At least one of those rumors appears to be true: Times-Union's Jimmy Vielkind reported today that sources tell him the district will be located in the Capital Region, stretching from west to south of Albany (see picture insert). The district is likely created to help Republican Assemblyman George Amedore get elected to the Senate, helping the Republicans keep their majority.
The news, if it holds up (and there's good reason to believe this is what we'll see when maps likely become available either late today or tomorrow), raises three important issues.
First Issue
The first of which is the fact that, according to Vielkind's article, Albany County will be cut in half by the new district. A number of observers have noted that the current Senate district in that area, represented by Democrat Neil Breslin, takes in the entire county of Albany.
The new 63-seat Senate memo produced by LATFOR notes that the new median senate population size is 307,356 per district. According to the US Census, Albany County's population 304,204—or about a 1 percent deviation, something unseen in most current districts.
Common Cause, which has provided draft maps of their own, has drawn a district that wholly made up of Albany County (see below). "It's very hard to understand what the justification is—other than a political gerrymander—for cutting Albany County into pieces when it's just about the perfect size to be its own senate district," said Common Cause's Susan Lerner.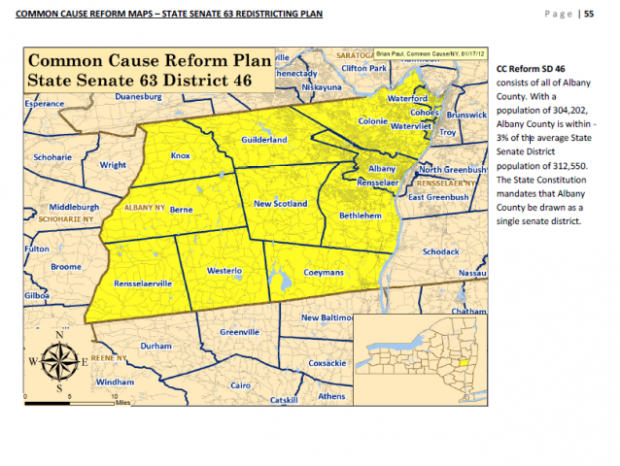 Courtesy of Common Cause.
The move to divide Albany could potentially run afoul of the state constitutional provision in Article III Section 4 that strongly suggests—but does not mandate—that counties be kept whole in the Senate:
[N]o county shall be divided in the formation of a senate district except to make two or more senate districts wholly in such county.
This provision has taken a back-seat to the Federal one-person, one-vote requirement. Many counties are divided now to make sure districts are as even in population allowed by law, but considering how amazingly close Albany County already comes to being the ideal district size, Lerner wondered if the theoretically proposed district wouldn't be going against the spirit of the law.
"One of the few requirements we have in our state constitution that is significant for actually drawing the district lines is a strong charge...to respect county boundaries wherever possible," said Lerner.
Second Issue
The next issue, which Common Cause has raised before, is the rational for putting a seat anywhere but New York City. Based on their mapping (see below), the population growth and totals in the state should dictate a 63rd district—if there is to be one (a separate but outstanding issue)—then it should be downstate, not upstate.
"It's…important to point out that according to the actual population distribution in the state; any new 63rd seat belongs in New York City," noted Common Cause in a statement about the new seat last week. "[A]dding a 63rd seat in New York City would produce districts that are almost equal in population in the true spirit of the constitution's principle of 'one person, one vote'."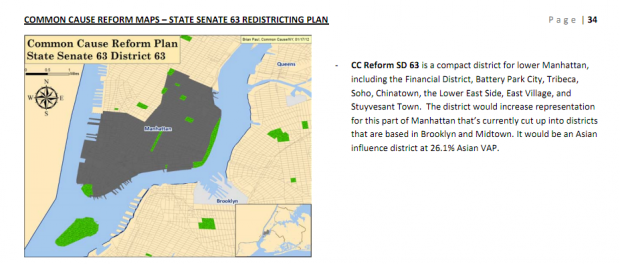 Courtesy of Common Cause
Just as a note, Brooklyn Republican State Senator Marty Golden doesn't agree. "It doesn't matter where the seat is appropriated, as long as it's done in an even and fair distribution," he said in a phone interview.
Issue Three
This relates to the final issue, which is the rejiggering that's going to have to happen to squeeze a new district in there. The broader question of how the other 62 seats get re-jigsawed to fit into this new redistricting puzzle might end up being an even bigger issue than the legality and pure fairness of a new Capital Region seat. Do racial and ethnic communities in the city feel like they're fairly represented? What sort of other gerrymandering has to go on to keep a majority of districts at least plausibly going Republican later this year? What degree of population over-packing and under-packing—meaning more districts in Republican-friendly areas, and less in Democratic ones, as is the case now—has to happen to make these new maps work for Senate Republicans?
"The motivation for expanding the number of members is to retain partisan control; we should expect lines to be drawn that will achieve that end," noted Dr. Gerald Benjamin of SUNY New Paltz.
And let's be fair: the exact same situation applies to the Assembly Democrats. While they don't have issues holding on to their majority, Speaker Sheldon Silver will likely be looking to regain his Democratic super majority in his new maps.
Interestingly, the requirements that civic and good-government groups will be looking out for might be used to justify the placement of the new district, according to Benjamin. The assertion that the 63rd seat is on its face unconstitutional could be upended if a through-line of logic can be shown by LATFOR as to how all the other prerequisites pushed their hand (at least in theory).
"They [LATFOR, defending the placement of the new seat] will say we had to do one-person, one-vote; we had to do accommodate Asian expectations; we had to accommodate African American expectations and Hispanic expectations; and that drove us to certain decisions down state and certain decisions in the middle of the state, and so on," Benjamin said. "I mean, you could almost write the script for the litigation."
Epilogue: The Final Issue
Which is the direction all this will undoubtedly turn. There is are already a lawsuit pending against LATFOR, and when maps are finalized the expectation is that we'll see lawsuits on the legality of both the 63rd seat, as well as its placement.
Then there's Governor Andrew Cuomo's threat to veto any lines not drawn independently and in a nonpartisan fashion. Does a 63rd seat in the Capital Region get the Governor enough to make good on his veto? As with everything else, we'll have to wait to see the maps to see how, exactly, the new maps lay it all out.