Breaking Down Cuomo's Budget Plan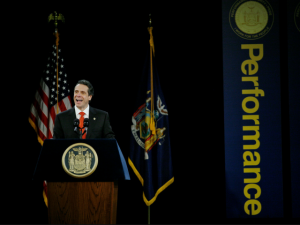 By the WNYC Newsroom
New York Governor Andrew Cuomo proposed a mostly flat $132 billion budget on Tuesday that has no tax increases, more education and health care aid and a radical change in pensions for new public employees.
Cuomo said his second annual budget that he will present to lawmakers includes about a 2 percent decrease in state spending, although total spending, including federal funds linked to state spending, will be mostly flat.
"Compared to what we went through last year, this is incredibly manageable, this budget," Cuomo said.
Here's what we know:
Business and Economy
Casino & Convention Center: The governor is asking state lawmakers to pass enabling legislation to allow the "disposal" of properties adjacent to the Jacob K. Javits Convention Center on Manhattan's West Side. The budget plan also touts the proposal to build a new convention center at Aqueduct Racetrack, which Cuomo says would require no public funding. The word "casino" is never mentioned in the budget book.
Tax Reform: Cuomo's recent decision to lower taxes on most middle-class New Yorkers while raising rates for the highest-earners will result in an additional $1.5 billion in revenues for the state. Middle-income individuals and businesses will save $900 million they would have sent to Albany.
Mandate Relief: State law imposes pension and healthcare costs ("mandates") on local governments across the state, including New York City's. Since the passage of a property tax cap last year, local governments have struggled to pay these uncontrollable expenses. Cuomo is proposing to reduce the spending obligations of local governments by introducing a new pension class (Tier VI) with fewer benefits, more state funding for medicaid, and a variety of "efficiency" measures. In total, these measures are projected to save local governments $942 million. New York City would save $30 billion over three decades as a result of Tier VI.
Labor: Cuomo wants to wring new cost savings from upcoming negotiations with state worker labor unions. "Absent new agreements, layoffs may be necessary" according to the budget proposal. Tier VI would help local governments reduce their employee benefits costs.
The Environment: The Department of Environmental Conservation, a key regulator of industrial activities in New York City, would see its budget reduced by $167.7 million (16 percent), primarily because of expiring federal stimulus funds. However, the DEC would also receive an additional $102 million in state funds for anti-flooding projects. There is no mention of expected revenues from natural gas drilling, once the DEC begins issuing permits for hydraulic fracturing, a natural gas drilling technique which is currently under review.
Consolidating Agencies and Entities:The Division of the Lottery would merge with the Racing and Wagering Board. The Department of Civil Service and the Governor's Office of Employee Relations would join into a single office. The Department of Transportation would lose five regional offices (leaving six remaining). The DEC would pass control of the Bellayre ski resort in the Catskill Mountains to the Olympic Regional Development Authority, an entity created to manage facilities for the 1980 Lake Placid Olympics. And more than 25 boards and commissions deemed to be moribund or redundant would be eliminated. Taken together, all these measures and more would save taxpayers $10 million.
Education
Teacher Evaluation System: The governor announced that the state Education Department and school employee unions will have 30 days to agree on a new effective teacher evaluation system or the governor will propose an evaluation system in the 30-day budget amendments. Schools will be given one year to implement the system or risk forfeiting an increase in education aid in the 2012-13 and 2013-14 school budgets.
The city would get an additional $243 million next year in additional education aid. Cuomo is recommending an additional $20 billion in school aid for the next fiscal year, an increase of 4 percent. But there's a catch.
School districts will not be eligible for aid increases unless they have fully implemented the new teacher evaluation process by January 17, 2013. Local districts and their unions are supposed to negotiate new teacher evaluations this year in order to receive federal aid from the state's $700 million Race to the Top grant.
But the state teachers union filed a lawsuit, claiming the evaluation structure puts too much emphasis on student test scores. New York City and its teachers union also hit an impasse when the union demanded changes to the arbitration system in cases where teachers get poor ratings from their principals.
This failure to reach an agreement already cost the city $58 million in federal aid for 33 struggling schools.
Assuming districts do reach deals with their unions to qualify for the additional aid, the governor would allocate $290 million in general support for high need school districts (including New York City), as well as those that were most affected by reductions last year.
High-need school districts will receive 76 percent of the 2012-13 allocated increase and 69 percent of total school aid. Another $265 million was allocated for increased reimbursement in expense-based aid programs (construction, pupil transportation) and other miscellaneous aid categories. And $250 million will be used for performance grants.
The governor's budget also proposes to reform the disciplinary process for teachers who get bad ratings. Citing figures showing the arbitration process lasts an average of 653 days, it says there's little incentive for districts and unions to resolve their disputes in a timely manner because the state pays for the hearings.
The governor is proposing to allow the State Education Department to set "reasonable limits on the costs of teacher disciplinary hearings," and to disqualify hearing officers who fail to comply with their deadlines. Under a new payment structure, the cost of the teacher hearings would be shared by school districts and unions, or the employees if they aren't represented by unions.
The budget proposal also recommends improving the cost-effectiveness of school transportation by centralizing the purchase of school buses through a single state contract developed with advice from the districts. State and districts would benefit by combining their purchasing power.
Heathcare
Medicaid, the state's second largest expense (behind education), is administered by Albany, but the cost is shared among federal, state and county governments. Counties have little control over the program; they more or less just get a bill they have to pay. Starting this year, the state will increasingly shoulder the counties' share of Medicaid costs and administrative responsibilities, a move it says, "will result in greater efficiencies" and "save counties and New York City $1.2 billion over five years."
Medicaid spending will increase once again, but as with last year, Cuomo is dramatically decelerating the rate of growth over years past.
"State Medicaid spending had been projected to grow at an unsustainable rate of 13 percent for the 2011-12 fiscal year," his budget briefing book reads. "And now future growth will be limited to the 10-year rolling average of the Medical Consumer Price Index, currently 4 percent."
Cuomo says he'll limit payments to non to non-profit and for-profit agencies, which the state contracts for a wide array of services -- especially in healthcare, mental health and various social safety net programs. It's not clear exactly how it would work, but his budget says that starting this year, "at least 85 percent of every public dollar will be spent on direct services, not administration, reimbursement for any executive's compensation will be capped at $199,000, and excess compensation will be a basis for rejection of a provider."
Transportation
Cuomo is proposing the MTA get $251 million more from the general fund than it did last year. That's somewhat less than the $310 million the MTA will lose as a result of the MTA payroll tax cut, although the state argued in a conference call with transit activists Tuesday that that's actually not less than the MTA needs because the state's budget starts three months earlier than the MTA budget.
Confusingly, in the text accompanying the budget numbers, the state says it will give $190 million more to the MTA than it did, which "includes $250 million to the MTA."
We're waiting for an explanation on that one to from the governor's office.
There's also $770 million for capital construction aid (as the MTA has outlined in its capital plan.)
The governor is also proposing $1.16 billion to start off his "New York Works" infrastructure bank for "bridges, roads, and major infrastructure projects,"  with most of that money ($917 million) coming from the federal government.
The budget also includes $9.7 million to improve Amtrak rail service.
And if you live in Broad Channel or the Rockaways, Queens, the state will reimburse you for your tolls, if Cuomo has his way.
Millionaire's Tax
The budget is built around spending about $2 billion from the "millionaire tax" increase on New York's top earners adopted in December. That pays for a $200 to $400 income tax break for most middle-class families, addresses a $2 billion deficit, and helps pay for 4 percent increases for public schools and hospitals and health care facilities through the Medicaid health care system.
Those increases total $1.4 billion.
Pension Plan
Cuomo is trying to balance continued hard fiscal times in a sluggish recovery with plans to invest in New York's future and attract jobs through tax breaks and other enticements. He also wants to cut long-term spending, including what he's called unsustainable public pension costs.
Cuomo's proposed pension changes would save governments outside New York City $83 billion over 30 years, while saving New York City $30 billion. The new less lucrative pension would be applied to new hires, not current employees or retirees.
Bloomberg Praises Cuomo's Budget
In a written statement, Mayor Michael Bloomberg called Cuomo's plan a "bold commitment" to tackle some of the toughest budget challenges facing the state.
Bloomberg and Cuomo have had differences of opinion in the past when it comes to how money is allocated to the city from the state. But the mayor says pushing for pension and juvenile justice reform, as well as continuing to insist on statewide teacher evaluations are the right priorities.
Child advocates also praised the governor for continuing to shrink the state's juvenile justice system.
According to the state budget, 324 beds will be removed from the system over the next few years and New York City youth residing in upstate facilities with the lowest levels of security will be transferred to programs closer to home.
Legislation must still be passed in order for facilities to be closed.
With reporting by Andrea Bernstein, Beth Fertig, Kathleen Horan, Ilya Marritz, Fred Mogul and Cindy Rodriguez