Cuomo's 2012 budget will look to keep the state on track while touching the third rails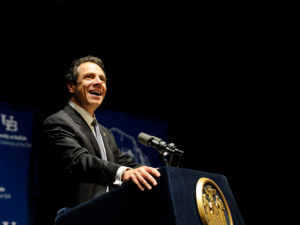 Courtesy of the Governor's office.
In today's budget speech we could see Governor Andrew Cuomo expending some of the horde of political capital he continues to pile up.
First and foremost, there's the issue of the approximately $2.1 billion budget gap projected for next year. After restructuring the tax code to include higher-income earners paying more, reports indicate the Governor will again turn to state agencies, asking for a two-and-a-half percent cut across the board.
Then there's the promised four percent increase for both education and healthcare in this budget. Cuomo's already made reforming Medicaid an agenda item in his administration, but appears to have stopped short of the call for the state to take up the call for the state to fully takeover pay for the program.
One of the biggest battles--and seemingly a perennial one--is likely to be over the Governor's call for a teacher evaluation system. This is almost certainly setting up a fight with the state's teachers union.
Another battle between Cuomo and the union's is expected to come from the Governor's proposal for a new pension tier. It's being reported he'll seek a 401(k)-like system for incoming government workers, including first responders.
Another interesting note: the budget won't include money for hydrofracking. Conversations with people working on the issue, some of whom are close with the Cuomo administration, have indicated a growing uneasy with the issue inside the Governor's office. The lack of financing in this coming year indicates that, at the very least, Cuomo is taking a longer, harder look at the process.
As soon as we get our hands on the budget, we'll start digging through to get you important details on the Governor's priorities for the coming year.