Albany good-gov groups want ethic reforms "Round Two"
By Karen DeWitt, WXXI Capitol Bureau Chief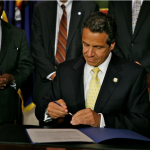 When Governor Andrew Cuomo signed ethics oversight legislation into law yesterday, he said it was a "major step forward" in restoring the people's trust in Albany. He touted the stricter disclosure requirements for lawmakers' outside income, a 14-member ethics panel empowered to probe corruption charges, and the elimination of pensions for future elected officials convicted of felonies.
The deal was indeed a major step but one with big flaws, say anti-corruption champions in Albany. And they want to see the governor tackle "Round Two" of ethics reform ASAP.
"Like in boxing, round two follows up very quickly after round one," said Senator Liz Krueger, a Manhattan Democrat.
Krueger says she's irked that the pension forfeiture only applies to new lawmakers and spares current or former elected officials found guilty of felonies. She also doesn't like the rules for who can sit on the corruption panel.
[At least eight members of the board have to agree to an investigation, and at least two must be of the same political party, a rule that could mean just three commission members could block the wishes of 11 other members of the panel.]
At the time the bill was passed, legislative leaders and Cuomo admitted compromises were made to get something done on ethics reform which had eluded state government for years.
The next step, says Barbara Bartoletti of the League of Women Voters, should be campaign finance reform, including public financing and a ban on politicians using campaign funds for personal expenses.
She says it's "the lynchpin" to returning New York State government to the constituents and out of the clutches of special interest groups. The goal: to upend what Bartoletti calls the "incumbency protection program" in which about 96 percent of state lawmakers get re-elected, over and over again.