The New York Times publishes its profile of David Weprin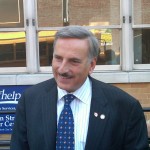 Colby Hamilton / WNYC
The Times published its follow-up candidate profile of David Weprin in the race for congress out in Queens today. (I'm guessing Chris Hoeppner's not getting his piece in before Tuesday.)
As we did with Turner's piece yesterday, here's the money section that sort of speaks to the big issue for the Weprin campaign right now:

Among his worst setbacks, he said, was finishing last in the 2009 Democratic primary for comptroller, which he attributed to a lack of support from the Democratic Party machine.

But political operatives who worked with him in that race said he had proved to be a sometimes temperamental candidate.

They said he would miss scheduled meetings with black and Latino groups, only to be discovered spending time with Orthodox Jewish constituents. While he was very skilled at raising money, they said he was also absent-minded.
The Weprin campaign's missteps might be more of trait following the candidate from race to race than any sort of bad luck. And they seem to be taking their toll: Siena came out with their poll this morning showing Turner capturing the majority of the support of those polled, leading the former frontrunner Weprin by 6 points.
The big question will be how the Weprin camp responds this weekend. Mobilizing support from endorsers in labor and elected office, hitting the pavement in the district, using the poll for a last-minute fundraising push--all of these things would indicate a campaign that was still going for the gold.
If today's event today was any indication, things don't look good for Weprin. After the poll was released showing Weprin sliding into second place, the campaign held a "protest" against Donald Trump's endorsement of Bob Turner. In Midtown. Far, far away from the district that could be slipping through his fingers.