Cuomo reworks pitch for new pension tier
By Karen DeWitt, New York State Public Radio Capital Bureau Chief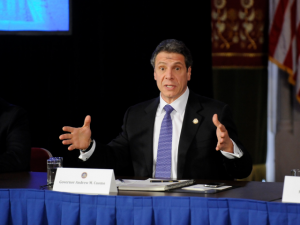 Governor Andrew Cuomo took a step back from his proposal to give new state workers the option of defined contribution 401(k) plan Monday, but the governor says without pension reform, local governments in New York could end up "bankrupt".
Cuomo told a receptive audience of mayors from around the state that New York's current pension system is unsustainable and must be changed for future hires.
"If we do not do this, we could literally bankrupt the state of New york," Cuomo said.
The governor, in his budget proposal, wants a new benefit tier that offers a reduced public pension or a 401k style plan, but he says he's flexible like "Gumby" on that.
"I'm not saying that 'this is my plan, you know, it's my way or the highway'," Cuomo said.
Cuomo says if lawmakers offer an alternative plan that saves as much money as his plan, then he's open to talks. The governor says his plan will save $113 billion dollars over future decades.
A spokesman for the state's largest public workers union, the Civil Service Employees Association, says even without the 401(k) option, Cuomo's proposed Tier VI benefit plan is too meager.
"The Tier 6 plan represents a 40 percent reduction in benefits, with or without options," CSEA's Steven Madarasz said in a statement. "That is all about corporate CEOs  driving an agenda that tells future nurses, school bus drivers, highway workers and others to give up hope of  future security."