Weprin: It's about Medicare and Social Security (never mind Israel)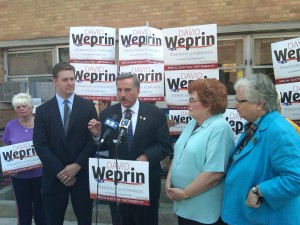 The site for David Weprin's press conference today—the senior center located behind the Forest Hills Jewish Center—gave the congressional candidate an easy twofer. It continued the counter narrative his campaign's been pushing since former mayor Ed Koch sought to make the race in the 9th congressional district a referendum on President Obama's support for Israel. But more importantly it was an attempt, the dayafter Koch announced he was backing Weprin's Republican opponent Bob Turner, by the Weprin campaign and its supporters to change the topic of conversation from Israel to the existential threat Medicare and Social Security face from congressional Republicans.
"The Republicans in the House are looking to slash Social Security and Medicare. Frankly, people are scared," Weprin said as supporters stood behind him. "I will fight to preserve Social Security and Medicare, not to privatize Social Security and Medicare."
In case you missed that: David Weprin wants you to know he's the guy who will fight for Social Security and Medicare.
Weprin was joined by nearly all of the local elected officials whose districts overlap portions of the 9th congressional district: Assemblyman Andrew Hevesi, State Senator Toby Ann Stavisky, and City Councilmember Karen Koslowitz. Stavisky, when asked, didn't down play the importance of Israel in the race, but pointed to Weprin's family and past support as clear indicators it will not be an issue voters will have to consider. "I have heard David, innumerable times, talk about why Israel is important, but it's not the only issue," she said. "Let's talk about the important issues."
The triumvirate of Queens political support will continue to be important for Weprin, as much of the congressional district lies to the south of his assembly seat's boundaries. Likewise, tying Turner to House Republicans keen on cutting back on many of the entitlements those inside the senior center count on will be an important distinction Weprin's campaign will try to make in the few short weeks before the election on September 13th. Turner has said he would fight to keep senior services in place.
One of the big things to watch for will be how much the Tea Party label being pushed by Democrats sticks to Turner moving forward, as the Weprin campaign continues to angle the discussion  away from support for Israel and towards attacks on Medicare and Social Security.