Federal judges move to draw NY congressional maps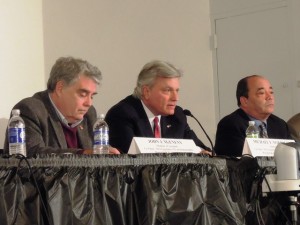 In Brooklyn federal district court today a three-judge panel took a decisive step towards having new congressional lines drawn by an appointed magistrate judge, and not by the legislatively-controlled LATFOR committee.
Led by Circuit Judge Reena Raggi, who spoke almost exclusively for the triumvirate, the panel cited the "utmost urgency" of having congressional lines in place for the primary petitioning period that begins on March 20. The panel of judges instructed a court-appointed federal magistrate, the Honorable Roanne Mann, to retain experts and get public feedback in order to have a proposed set of new congressional boundaries to the court by Monday, March 12.
A public hearing on the court's proposed lines would be held on March 15.
Legislative leaders have up to now been unable to agree upon and present a set of congressional maps to the public. We may get our first glimpse of what the state Assembly and Senate have in mind soon; maps from the parties in the case are due by the end of this week.
But some observers believe the legislature isn't going to give up its power to draw maps that easy.
"I think the chances are that they [the legislature] will get it together and draw the lines," said Jerry Goldfeder, a New York City-based election lawyer. "This is just an extra motivating force."
The question will be whether or not they've run out of time: even if the legislature is able to agree upon a set of maps, they must then get Governor Andrew Cuomo to sign them into law. And even then, the legislature's maps must then be pre-cleared by the Department of Justice, who has up to 60 days to review them.