Manhattan Borough Prez strings together media wins, pads 2013 resume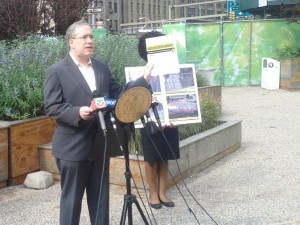 Manhattan Borough President Scott Stringer has been on a roll lately. Over the weekendhe spoke at a national symposium on rethinking incarceration policies, calling on the mayor to do just that when it comes to the police department's controversial stop-and-frisk policy.
Good timing:the day before Police Commissioner Ray Kelly issued a directive to officers to not make arrests for marijuana possession during the procedure. And earlier this month, when a group of city council members announced they were allowing their constituents to vote on how discretionary funds were spent in-district, Stringer's recent report calling for a major overhaul of the process ends up looking pretty prescient in hindsight.
Yesterday, Stringer was downtown at a stalled construction site turned temporary public space to tout a new report he's released. He's calling on the city to help turn some of the 646 other stalled sites into temporary places for public use, like parks or art galleries, like the one at the corner of Varick Street and Canal.
"Imagine a city where stalled construction sites are not simply inactive, dead vacant lots, but one where they boost the health and vitality of a neighborhood," Stringer said in a statement. "That's the kind of sidewalk renaissance we need in New York City."
Opening the report reveals a list of other dozens of other reports, going back as far as 2006, that demonstrate how the non-legislative position of Borough President can be used as bully pulpit. As his office pointed out, these issues aren't (entirely) flimsy publicity papers—see above.
In a crowded 2013 Democratic mayoral field, Stringer is padding his resume with think tank-like ideas for improving the city and addressing major social issues. He'll likely be citing these as examples to show he can get the city to respond to issues in a way City Council Speaker Christine Quinn can't, as she's hemmed in by her position in the council and proximity to the current mayor. It will also allow him to list proactive agenda items—a difficult thing for a Borough President—that shows Comptroller John Liu and Public Advocate Bill de Blasio aren't the only reformers vying for mayoralty.
A fair amount of what's coming out of Stringer's office has been taking up oxygen in the public policy debate around the city. This isn't to say other elected officials haven't pushed hard on major issues. Liu has been one of Mayor Bloomberg's chief antagonists, and has regularly been at odds with the mayor's office over public pensions. De Blasio has initiated a number of campaigns on issues like parental involvement in education, renters' housing rights, and a national-level pushback on the Supreme Court's Citizen United case.
Likewise, de Blasio has been associated with issues such as stop-and-frisk and City Council member items that Stringer has only recently been snatching headlines. But Stringer has proven adept at finding a way into narratives and redirecting attention. Case in point: It wasn't Bill de Blasio snatching headlines over the weekend, hot on the heels of a major policy turnaround by the mayor on stop-and-frisk.
It's been suggested that, given his focus on good government initiatives, Stringer might be pursuing—or even better suited for—the public advocate's office. He and his office avidly deny this, and there's no reason, consider his run lately, to think Stringer is at this point gunning for anything less than the mayoralty.