How to know if someone is running for Mayor in 2013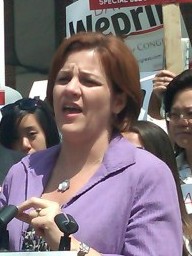 The candidate will be able, in one sentence, to shove every campaign talking point and example of effective leadership into one sentence, regardless of the question. Like City Council Speaker Christine Quinn did earlier today on the Leonard Lopate Show. The topic, for what it's worth, is the city's food system:
Though I think a lot of the work were doing now in the council, whether it is to end fingerprinting for food stamps, whether it's recently having filed a lawsuit against a proposal to push homeless people in need out of the homeless system, or our efforts in FoodWorks and other places to try and create more jobs for New Yorkers at different economic and education levels, I hope speaks to the anger that came out of Occupy Wall Street in the way that we in government should be responding by putting in place policies that will put people to work in diverse industries and support new industries.