Cuomo signs $250 million MTA payroll tax roll back bill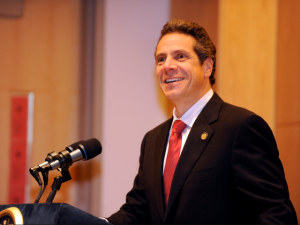 Courtesy of the Governor's office.
With Jim O'Grady
Following up on the first two pieces of his economic package passed last week, Governor Andrew Cuomo today signed into law a $250 million cut to the MTA payroll tax. The tax had been a consistent target of suburban lawmakers.
"Small businesses are New York's growth engine and this tax reduction will help create jobs and get our state's economy back on track without jeopardizing funding for the MTA," the Governor said in a statement.
Today's signing was held at a high school in West Hempstead, where Cuomo shared the stage with dozens of local elected officials who've been trying to repeal the tax since it passed in 2009.
"The MTA payroll tax has been particularly burdensome on Long Island," he said, before predicting that the tax cut would spark an "economic rebound" in Nassau and Suffolk Counties—along with the ten other counties served by the authority.
According to the Cuomo's office, 289,000 businesses with annual payrolls below $1.25 million will see the tax disappear, while more than 6,000 businesses with payrolls between $1.25 and $1.75 million will see their payroll tax cut by as much as two-thirds. An estimated 414,000 self-employed workers will also see their taxes lowered by the measure.
The new measure would also make elementary and secondary schools–both public and private–exempt from the tax, which won praise locally from both Democratic and Republican lawmakers. The Governor has said that the state will pick up the quarter billion in funding for the transit authority lost through the tax cut.
"The MTA Payroll Tax has been damaging our economy and restricting the growth of quality jobs in New York," Long Island State Senator Lee Zeldin said in a statement. "Repealing this tax for all small businesses and schools, and reducing the rate for others, spurs real economic development, and helps put New York State on the path towards prosperity."
Transit advocates expressed concern after the bill's passage that the state has reneged in the past on promises like the one Cuomo is making to shore up the MTA's budget, and that it's led to steep fare hikes and service cuts like those seen in 2010.