Assem. Minority Leader Kolb backs hydrofracking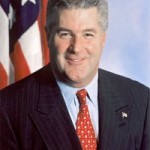 Courtesy of the Minority Leader's office.
Apparently Assembly Minority Speaker Brian Kolb hadn't put down his chips in on this issue. But on his 1300 AM talk show out of Albanytoday, the Post's Fred Dicker put the controversial question to the minority leader.
"It's controversial wherever it's brought up because there's a lot of misinformation. There's a lot of fearmongering," Kolb said. Not surprisingly, then, he said he supported bringing hydrofracking to New York State.
But Kolb did discuss having the kind of buffer zones around the Finger Lakes in and near his district that is being proposed for the reservoirs that feed city's like New York.