Assembly Minorty Leader Brian Kolb 'outraged' at Cuomo's stealth tax reform process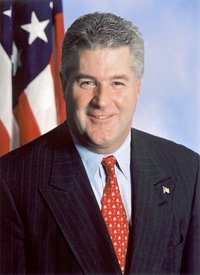 Courtesy of the Minority Leader's office.
Assembly Minority Leader Brian Kolb continued to hammer the Cuomo administration and legislative leaders today after the whirlwind passage late last night of a major economic package that included a rewriting of the tax code.
Kolb called the process "egregious" after Governor Andrew Cuomo, Senate Majority Leader Dean Skelos and Assembly Speaker Sheldon Silver crafted a deal behind closed doors that lawmakers were handed shortly before being asked to vote on the legislation yesterday.
"There was no reason to do this in this rush, in a 24 hour time period, not having bills be on desks for at least three days, not to have outside groups have their say about this, one way or the other," Kolb told Susan Arbetter during her radio program this morning. "And if you go through and still vote the way you do, fine. But at least have public discourse about it."
Media reports this morning focused heavily on how rapidly the Cuomo administration moved the legislation forward. The New York Times Thomas Kaplan captured the process this way:
The remarkably rapid progress of the tax revisions — without a single public hearing or town-hall-style meeting — provided the most striking illustration to date of Mr. Cuomo's policy making strategy: information is tightly controlled, negotiations are carried out behind closed doors and the debate is limited to just a few people.
"Governor Cuomo said, 'I'm going to have the most transparent, open government under my watch,'" Kolb said in his interview. "This is not transparency. This is not good government."
The New York Public Interest Research Group's Bill Mahoney, who was the first to notice that the 33-page bill was made public a mere 26 minutes before the Senate was to vote on it, called the process "not good, to say the least" but tried to look on the bright side of things.
"The best I could say is that at least there were no surprises this year," Mahoney said. "In the past it has happened that an issue that hasn't been discussed at all appears minutes before session and they wind up passing it."
Mahoney said that the Governor has had some limited success following his promise to open up Albany, but that Cuomo's tax reform process left much to be desired.
"What we saw last night indicates that we still have quite a ways to go," said Mahoney.