The coming crunch on New York's local governments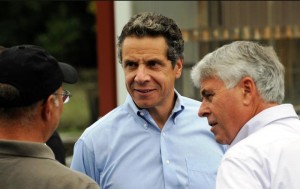 Courtesy of the Governor's office
The Pew Center's state government blog Stateline has a great piece on Indiana and New York's battle to shrink local governments across the state. Here in New York, Governor Cuomo has been, for years, putting the pieces together for a major reduction and consolidation of the state's layer cake of overlapping governments.
This will be a story that continues to develop, as the new local tax cap is scheduled to take affect next year--something town mayors, county executives and others are starting to voice concerns about.
From the article:
Unlike in Indiana, cities, towns and counties in New York face strict mandates from the state on collective bargaining, binding arbitration, and wage, pension and benefit obligations. Municipal leaders have long argued that these mandates bear heavy responsibility for the cost of local government — and hence for rising property taxes. A December, 2010 report from the state Conference of Mayors, "You Can't Cap What You Can't Control," pointed out that city pension and health insurance costs were due to rise $206 million in the next two years — while a 2 percent property tax cap, which is what eventually passed, would allow only $39 million in additional levies.

Cuomo created a "mandate relief redesign team," and the state's municipal leaders pressed the legislature hard on the issue, but in the end the tax caps passed without significant mandate relief. "The property tax is one of the most regressive and onerous taxes you can put in place," says Sam Teresi, the mayor of Jamestown, a city of 31,000 in the far western corner of New York. "I for one do not oppose the notion of a property tax cap. But the legislature passed the tax cap as a standalone item, broke their arms patting themselves on the back, and left town without taking up mandate relief. If all you're doing is choking off revenues for local governments and not allowing us to go in and attack the problem on the expenditure side of the ledger, then you're going to be seeing municipal insolvencies around the state."
The whole piece is worth a read. You can find it here.