Cuomo: Supercommittee failure 'the last thing we need'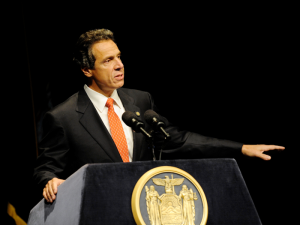 Courtesy of the Governor's office.
In a set of radio interviews with Albany political reporters Fred Dicker of the New York Post and the Capitol Bureau's Susan Arbetter, Governor Andrew Cuomo blasted the Congressional budget deficit "supercommittee" for failing to come up with a plan, which--at least for now--triggers some $1.2 trillion in Federal spending cuts.
"To the extent it roils the financial markets, it roils the New York economy and the New York budget," the Governor said during Dicker's show this morning.
This point speaks to the heart of what Cuomo's office is now worried about. The earlier statements about 155,000 jobs being lost and the cuts to Medicaid and transportation spending are off the table--at least for now. The focus is, first, on the $5 billion over 10 years figure his office put out yesterday. That averages to less than one half of one percent of the state's budget--not a doomsday figure, as I pointed out yesterday.
But it was pointed out by an official in the administration that, last year, Cuomo asked for a 10 percent cut from agencies that resulted in $1.4 billion in savings. The $500 million figure is talking about direct Federal funding into the state's coffers--money that does help with things like infrastructure, education and other important, non-entitlement services.
But this isn't the real point of concern. "The $5 billion is the tip of the iceberg," the Cuomo administration official said.
The bigger issue for the Governor's office, which he was point out today, was the broader effect the uncertainty coming out of Washington will have on the economy. The most significant short term issue is with Wall Street.
To the extent this destabilizes the market...it's very bad for us," Cuomo said. As it stands, the Dow Jones Industrial Average is down again today. Continued losses on Wall Street--for good or bad--means less tax revenue for the state, and a grimmer budget situation for next year.
"There's a confidence deficit," he said. That issue, the thinking goes, is more of concern than even the direct cuts we could face if the "sequestration" as it stands ends up lopping a trillion dollars out of the Federal budget. A continued lack of confidence--in government, in the recovery--could lead to more widespread economic problems.
That, again, is how the thinking goes at least. The fact of the matter is, as the Governor stated, no one really knows what's going to happen. Which may be as bad, if not worse, than any agreement the supercommittee could have come up with.