DiNapoli on Wall Street's 'new normal' after report shows smaller profits, bonuses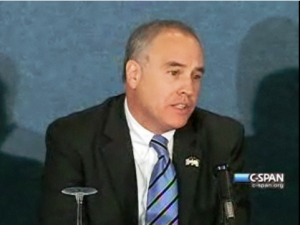 Courtesy of CSPAN
New York State Comptroller Thomas DiNapoli released a report today highlighting the shrinking profits of Wall Street. According to the report, upcoming bonuses are projected to decline by 14 percent, as brokerage profits were less than half of what they were in 2010.
In a sit-down interview with WNYC's Empire blog, the Comptroller said the good news was that the state and city had both planned for decreased revenue from the financial industry in their budgets. But more importantly, DiNapoli said, the shrinking of Wall Street profits could be a good thing.
"As we move towards more implementation of federal regulatory oversight, where the emphasis will be on transparency, accountability in compensation, tying it to long-term profitability, less leverage, higher cash reserves--all of that adjustment, which we're seeing the beginnings of in terms of impact, that's probably going to continue," he said. "If that produces an industry that is profitable, at a sustained level, we may not have the peaks we had a few years ago ever again but if the tradeoff is that we won't have the kind of valley that we had in '08 and '09 i think that's good for everyone--certainly from the point of view of planning for city and state budgets; it will make it much easier."
DiNapoli said he couldn't say for sure if the trend on Wall Street was "the new normal", but he did note that just like this month has seen an improvement in the markets—the Dow hit 13,000 for the first time since 2008 this week—last February started the year out strong.
""That's not how the rest of the year played out," he said.
From the government spending side, he said both the city and state budgets have already started responding to the possible permanence of a smaller Wall Street.
"I think we've already anticipated this trend," he said. "We just have to continue to monitor carefully where it's all headed."
The Comptroller also discussed the pension reform debate. Mayor Michael Bloomberg was in Albany on Wednesday to push state legislators to pass Governor Andrew Cuomo's proposed Tier VI plan.
"As local elected leaders, we are the ones who see firsthand just how rising pension obligations are taking a bigger and bigger bite out of our budgets," Bloomberg said in his prepared remarks. "We see how they're increasing our tax rates all across this state, money that's coming out of the pockets of people who are working hard trying to make ends meet and have a future for themselves and their families."
DiNapoli pointed out that the biggest driver of state pension costs right now is the fallout of the financial crisis which began in 2007.
"Any discussion of changing the parameters of a new tier is not going to impact on the cost that are of concern today," he said. "We did a new Tier V just two years ago...It had minimal impact on the cost. You do a Tier VI, right--you do it today: minimal impact on the cost."
On this point, the Governor and Comptroller don't appear to be in disagreement. Speaking to reporters on Tuesday, Cuomo said "the benefit" of a new pension tier wouldn't be felt "for years."
"All we're doing is now changing the rules going forward," he said. "You're not going to feel these changes for many, many years."
DiNapoli echoed the Governor's point on the new tier: "Until you starting hiring a sign number of people in those two tiers, it's not going to have a significant impact."
The difference? Cuomo sees the system as ultimately flawed, as it leaves tax payers on the hook, and in need of a fundamental overhaul that would semi-privatize the system. DiNapoli sees the system as essentially working, and thinks that, instead of making these fundamental decisions "at an extreme" like we are now, we should approach such a long-term situation with an equally expansive mindset.
"I think it's totally appropriate to debate the different parameters of retirement age and contribution level--that's what Tier V's discussion was all about," he said. "Let's have a fact-based, thoughtful, inclusive discussion. I think that's the smarter way to approach this question."