term limits legislation introduced in Albany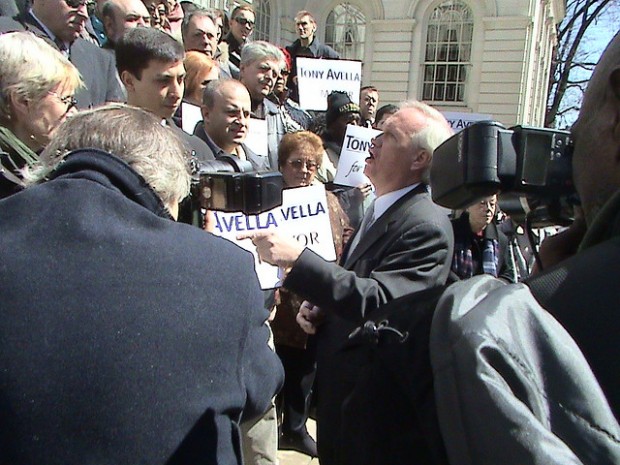 State Senator Tony Avella, a freshman Democrat from northeast Queens, was an outspoken defender of term limits when he was in the City Council.
He wants state lawmakers to serve for 4-year terms, and in total, to only serve fro 16 years. Staying longer makes elected officials "stagnant, arrogant and reluctant to adopt new ideas."
Which should gin up lots of support colleagues. Also, announcing the legislation on a Friday afternoon says something about how much political capital he's putting behind the effort.
Avella:
State Senator Tony Avella announced today that he will fulfill a campaign promise by introducing legislation that, if approved by the legislature and the voters, would for the first time institute a term limit of a maximum of sixteen years, for State legislators.  He will also introduce a companion bill to change the term of office for State Senators and Assembly Members to four years instead of the current two.

Avella stated, "Politicians who serve for countless years tend to become stagnant, arrogant and reluctant to adopt new ideas," stated Avella.  "Sixteen years is a balance between the need to retain an institutional memory while still ensuring change, new ideas and fresh voices."

In 2008, as a member of the New York City Council, Avella led the fight against Mayor Bloomberg's decision to repeal the term limit law for City elected officials.  In addition, despite having the opportunity to serve a third term, Avella kept his covenant with the people and only served two terms.

"I believe that changing the term of office for State legislators is essential to creating a more effective government," stated Avella.  "Not only would this action save the taxpayers money by reducing the number of State elections by half; it would also eliminate, in my opinion, some of the political nonsense that occurs in Albany.  Legislators have basically one year in office before they have to run for re-election.  Once the campaign year begins they are anxious to get back to their districts and are often reluctant to deal with controversial issues fearing voter reactions."

Both proposed measures would alter the State Constitution.  In order to be enacted into law, the legislation would have to pass both the Senate and the Assembly by the successive Legislature in 2013 and then be approved by the voters in a statewide ballot.